Paul McCartney shows support to jailed Pussy Riot members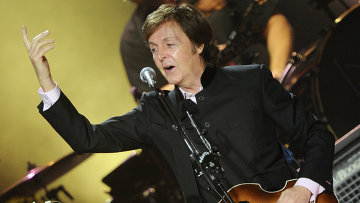 10:47 23/05/2013
MOSCOW, May 23 (RAPSI) – Ex-Beatle Paul McCartney has written letters to Russian authorities in support of two members of Russian punk group Pussy Riot, who were jailed last August on offical charges of hooliganism, RIA Novosti reports quoting his website.
The famous musician has asked the Russian officials to consider release on parole for Maria Alyokhina and Nadezhda Tolokonnikova, who are serving two-year sentences for performing a "punk-prayer" against President Vladimir Putin in the Christ the Savior Cathedral in central Moscow in February 2012.
"In the great tradition of fair-mindedness which the Russian people (many of whom are my friends) are famous for, I believe that you granting this request would send a very positive message to all the people who have followed this case," McCartney wrote in a letter regarding Alyokhina.
"I have had a long relationship with the Russian people, and, with this in mind, I am making the following request in a spirit of friendship for my many Russian acquaintances who, like me, believe in treating people - all people, with compassion and kindness," he wrote in a letter regarding Tolokonnikova.
Alyokhina, 24, declared a hunger strike on Wednesday after a regional court denied her access to her parole appeal hearing, while Tolokonnikova, 23, was denied parole by a court in Russia's republic of Mordovia in April.
In February 2012, five young women wearing brightly colored balaclavas staged a "punk-style" prayer in the Christ the Savior Cathedral in central Moscow. An edited video of their performance was posted on the Internet and caused a public outcry.
In August 2012, the Khamovnichesky District Court in Moscow sentenced Alyokhina and two other Pussy Riot members - Nadezhda Tolokonnikova and Yekaterina Samutsevich - to two years in a prison settlement for hooliganism.
In October 2012, the Moscow City Court changed Samutsevich's verdict to a suspended sentence and released her immediately, based on her new attorneys' argument that she was seized by security guards prior to reaching the altar.
Alyokhina's and Tolokonnikova's sentences were upheld. In April, the Zubova Polyana District Court in Mordovia rejected Tolokonnikova's request for parole.
The Pussy Riot case has attracted unprecedented media attention and international criticism, which the Russian Foreign Ministry dismissed as "groundless," saying the band's act had nothing to do with artistic performance but was "insulting to millions of Orthodox [Christian] believers." The band said their performance was not aimed at insulting believers' feelings.