US bars Ukrainian prosecutors from questioning former PM Lazarenko - official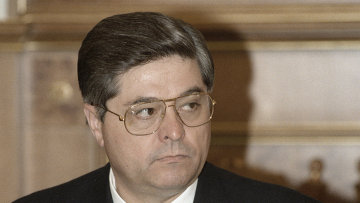 12:23 23/05/2013
KIEV, May 23 (RAPSI) - US authorities are preventing Ukrainian prosecutors from questioning former Prime Minister Pavlo Lazarenko on murder charges, Ukraine's First Deputy Prosecutor General Renat Kuzmin told the Ukrainian newspaper Segodnya.
Lazarenko is suspected of financing the assassination of businessman and deputy Yevhen Shcherban in 1996. He has remained in the United States after serving a nine-year sentence in a US prison for money laundering. He was released in 2012. At the moment he is under arrest for violating immigration laws.
"Lazarenko is still in custody <...>. They have prevented us from questioning him and rejected our request to question him on our behalf. They are refusing to extradite him. In Ukraine, he is facing a court warrant for his arrest," Kuzmin said.
Prosecutors have summoned four witnesses to give evidence on the Shcherban case. The key prosecution witness, Petro Kirichenko, an associate of former Prime Minister Yulia Tymoshenko who now lives in the United States under the witness protection program, was scheduled to testify in the Shcherban case on May 15.
Shcherban, the head of the Aton financial corporation and a deputy of the Supreme Rada, was shot dead at Donetsk Airport in November 1996. His wife and an airport employee were also killed.
The Prosecutor General's Office claimed that the murder was ordered by two former Ukrainian prime ministers, Tymoshenko and Lazarenko. According to the investigators, Shcherban stood in the way of making United Energy Systems of Ukraine, which Tymoshenko headed at the time, the monopoly distributor of gas in the Donetsk Region.
The investigators claimed that Tymoshenko and Lazarenko paid $2.8 million for Shcherban's murder. If Tymoshenko is found guilty as charged, she could be sentenced to life in prison.
Her lawyers always argued that she is not involved in the murder in any way.
In October 2011, Tymoshenko was sentenced to seven years in prison for abuse of power. The judge said she exceeded her powers when she signed a 2009 deal with Moscow under which Ukraine paid a high price for Russian gas.
In late March, a second case bringing further charges against Tymoshenko was filed with Kharkiv's Kievsky District Court. The case deals with suspected embezzlement when she headed United Energy Systems of Ukraine in the 1990s.