Russian intra-governmental group to investigate data leaks to US intelligence agencies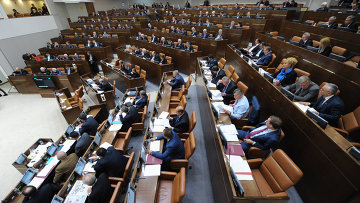 18:22 19/06/2013
MOSCOW, June 19 (RAPSI) - The Federation Council, Russia's upper house of parliament, will establish a working group to investigate data leaks to US intelligence agencies by the end of the week, Digit.ru reported Wednesday.
"We will establish an intra-agency working group to investigate the incident and to define legal mechanisms, so as to enter the global investigation," Ruslan Gattarov, chairman of the Information Society Development Commission at the Federation Council, was quoted as saying at a session of the Commission.

He added that the working group members will include representatives of a number of ministries and federal agencies, as well as independent experts.
Attendees addressed the situation concerning Internet companies such as Google, Microsoft, Facebook, and Twitter, which provide information about their users to US intelligence agencies.
During the meeting, Gattarov said the agencies' virtually unrestricted access to the personal data of social network and other Internet company users violates constitutions in countries across the world.
Edward Snowden dominated international headlines this month after claiming responsibility for having leaked top-secret documents to The Guardian, detailing the National Security Agency's (NSA) capacity to access the systems of such major US companies as Google, Facebook, and Apple. Google, Facebook, and Apple have all denied having provided direct or backdoor access to their servers.
The UK Government Communications Headquarters (GCHQ) is believed to have used "ground-breaking intelligence capabilities" during the G20 meetings in 2009 to intercept the communications of visiting delegations, including Russia, Turkey and South Africa, The Guardian reported, citing documents uncovered by the NSA whistleblower Edward Snowden.