Saakashvili's party accused of receiving illegal $3 million donation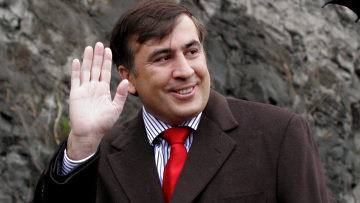 15:23 04/07/2013
TBILISI, July 4 (RAPSI) - Georgia's State Audit Service has reported that the pro-presidential party, the United National Movement, received an illegal donation of 5.2 million lari ($3.2 million), RIA Novosti said on Thursday.
According to the regulator, the State Agency for Social Aid and Employment, which reports to the Ministry of Labor, misused a government employment program using state funds to pay 21,827 individuals to campaign for the party between September 1 and 30, 2012.
The employment contracts were signed between July and October 2012. The campaign activists were paid 260 lari each ($160). The lists of the new employees were compiled by representatives of the United National Movement-dominated local authorities, who were "not even informed about the measure being part of the state employment program."
"This shows that a number of state agencies ignored the program goals and used the employment money for the United National Movement's campaign. Thus the party received an illegal donation from the funds allocated for the Labor Ministry," the statement reads.
The State Audit Service has said it will send a report to the Prosecutor General's Office for investigation. All political parties which received illegal donations before October 1, 2012, were absolved from liability by an amnesty of December 19, 2012.
The Georgian Dream coalition, led by the current Prime Minister Bidzina Ivanishvili, won the October 1, 2012 parliamentary election, forcing the United National Movement, which had ruled Georgia since the Rose Revolution in 2003 and is led by President Mikheil Saakashvili, into opposition. Saakashvili has retained his post, but his influence in the country has decreased dramatically.