Nazi war crimes suspect Laszlo Csatary dies in Hungary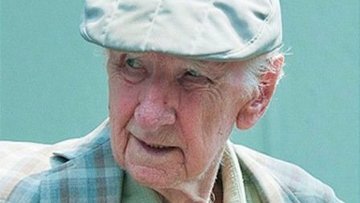 14:05 12/08/2013
MOSCOW, August 12 (RAPSI) - Laszlo Csatary, a 98-year-old accused Nazi war criminal, has died in a Hungarian hospital, the BBC reported Monday. Csatary faced charges over war crimes he was alleged to have committed as a Nazi during World War II.
International Jewish human rights organization the Simon Wiesenthal Center described Csatary's role in World War II era crimes as follows: "The former Kosice ghetto commander played a key role in the deportation of approximately 15,700 Jews to the Auschwitz death camp, where the majority were murdered." Kosice is a Slovakian city that was under Hungarian rule during the time period in question.
The BBC reported that Csatary had denied the allegations, claiming that he had served as an intermediary between Hungarian and German officials, and had not committed any war crimes. The report added that Hungarian legal proceedings were stopped last month based on double jeopardy concerns. Csatary had been sentenced in absentia in then-Czechoslovakia to death in 1948, and Slovakia had since reportedly sought his extradition in order to formally sentence him. According to the BBC, life imprisonment was sought, rather than the death penalty, in light of the abolition of the latter.
In July 2012 leading Nazi hunter Dr. Efraim Zuroff presented Hungarian prosecutor Dr. Gabor Hetenyi with new evidence against the suspect, according to the Wiesenthal Center.
A statement released by the Weisenthal Center at the time quoted Zuroff as having stated, "This new evidence strengthens the already very strong case against Csatary and reinforces our insistence that he be held accountable for his crimes. The passage of time in no way diminishes his guilt and old age should not afford protection for Holocaust perpetrators."
Speaking with RAPSI last year, Zuroff expressed his desire to see the Hungarian authorities complete the judicial process against Csatary as soon as possible. "We want an expedited prosecution… based on his age," Zuroff explained.
He further explained the imperative of hastening proceedings in order to ensure that Csatary would be brought to justice, in light of his advanced age: "the only thing we can do is help make [the trial against Csatary] happen and that means finding evidence, finding survivors testimonies, and… it might mean creating pressure on the judicial system to bring the expedited trial. Our concern is that this will be dragged out and it will never be brought to justice. That's our concern."
According to the BBC, Csatary's attorney explained that he had suffered from a variety of medical issues, but that pneumonia ultimately claimed his life.
While some sympathized with Csatary due to his advanced age, the Hungarian authorities are obligated to bring the suspect to justice. Having ratified and acceded to the UN Convention on the non-applicability of statutory limitations to war crimes and crimes against humanity in 1969, Hungarian authorities have adopted the theory that it is never too late to prosecute war crimes, even after the passage of nearly seven decades.