Russian thrash metal legend's song banned as extremist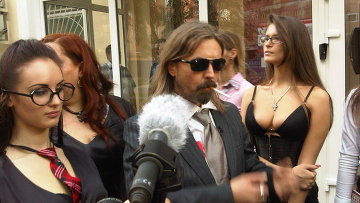 18:01 27/09/2013
MOSCOW, September 27 (RAPSI) - "Beat the demons," a song by legendary Russian thrash metal band Korroziya Metalla, has been included in the federal list of extremist materials, Russia's Ministry of Justice announced on its website Friday.
Moscow's Gagarinsky District Court declared the song extremist on May 22.
The song's name translates literally to "beat the demons." The Russian word for demon can also be used as a racial slur, though its meaning is contextual. Bandleader Sergei Troitsky has publicly speculated about why his song was blacklisted, asserting that there was no provocation in the call for beating demons.
A true heavy metal legend, Troitsky returned to mainstream headlines during his mayoral campaign in Moscow's satellite city of Khimki. Semi-nude female city administration staff, a zoo filled with mechanical animals, and Germans employed en masse - because "they don't take bribes" - were among his campaign promises.
Better known as "Spider," Troitsky is a rock veteran. He is the sole remaining member of the legendary Korroziya Metalla thrash metal band. The band's first album, "The Order of Satan," was released on the group's own label in 1988 after its no-holds-barred content proved too hot even for Perestroika-era record companies. Korroziya's outlandish concerts also gained the band nationwide notoriety in the 1990s as "Spider" impersonated Hitler, used Satanist imagery and employed writhing naked women on stage.