Navalny's wife refuses to testify in painting theft case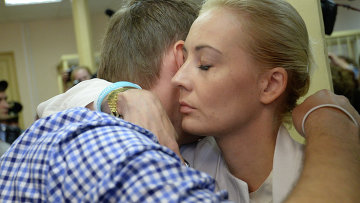 14:43 25/08/2014
MOSCOW, August 25 (RAPSI) - Yulia Navalnaya, wife of Russian opposition activist and anti-corruption blogger Alexei Navalny, has refused on Monday to testify in a criminal case over the alleged theft of a painting by artist Sergei Sotov, according to Navalny's Twitter account.
Navalny's wife was called in for questioning by the Investigative Committee, but she refused to testify under Article 51 of the Constitution.
Investigators claim that the painting titled "Bad and Good Person" was stolen at the exhibition in the city of Vladimir. It was found during a raid on Navalny's apartment on June 20.
Homes of two activists who worked for Navalny and his Anti-Corruption Fund were reportedly raided in July as well by law enforcement officers investigating the alleged theft.
Navalny who has been under a house arrest since March 28 claims the case to be fabricated.
Navalny and his brother Oleg stand accused in a fraud case involving cosmetics company Yves Rocher Vostok. Investigators allege that the Navalny brothers embezzled upwards of 26 million rubles ($722,168) from the cosmetics company, as well as upwards of 4 million rubles ($111,103) from the Multidisciplinary Processing Company by way of a fraud scheme.
Navalny has already been given a suspended sentence of five years for the embezzlement of funds owned by Kirovles company.