UN urges Ukraine to start investigation into alleged human rights abuses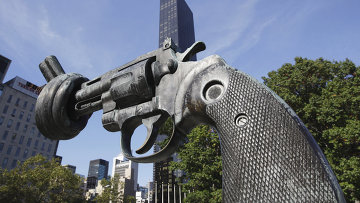 17:34 29/08/2014
MOSCOW, August 29 (RAPSI) – The UN human rights office has presented on Friday report on the ongoing crisis in Ukraine urging authorities of the country to immediately carry out investigation into the alleged gross violations of human rights and international law.
"Although the fighting and security operation is ongoing, in the areas where the Government has restored control, it needs to immediately start investigating allegations of allegations of violations of international law by armed groups and Ukrainian forces. Any delay causes further risk that vital evidence will be lost," the report of the Office of the United Nations High Commissioner for Human Rights reads.
The report presents a wide array of human rights abuses allegedly committed both by Ukrainian government forces and separatists in southeastern regions of the country where at least 36 people are being killed every day.
"Targeting civilians and civilian infrastructure as well as indiscriminate attacks are violations of international humanitarian law and more must be done to protect them. Responsibility for at least some of the resulting casualties and damage lies with Ukrainian armed forces through reported indiscriminate shelling," according to the document.
"The HRMMU [United Nations Human Rights Monitoring Mission in Ukraine] also received reports of human rights violations committed by territorial battalions under the Ministry of Defence or special battalions under the Ministry of Internal Affairs. This includes cases of arbitrary detention, enforced disappearances and torture," the report goes on.
The UN human rights office says that these allegations should be taken into consideration as well and thoroughly investigated.
Moreover, the office highlights the problem of mass arrests sanctioned by Ukrainian authorities. "The Ukrainian forces increased operations to arrest people it allegedly suspects of subversive or terrorist activity, both in the east and in other regions of Ukraine. The Security Service of Ukraine and police have detained more than 1,000 people in the Donbas region," according to the report. Arrests are conducted by the volunteer battalions as well, and violations of the criminal procedural law during these arrests are allegedly taking place.
The report slams separatists for committing "killings, abductions, physical and psychological torture, ill treatment, and other serious human rights abuses and violations of international humanitarian law".
They are also blamed for obstructing the international investigation into the crash of the Malaysian Airlines flight MH17 that killed 298 passengers on board.
Finally, the report highlights the problem of people held captive. As of August 17 there were at least 468 such people, however, nobody knows for sure how many people remain in captivity.