Assets of 24 Ukrainian banks seized by Crimean courts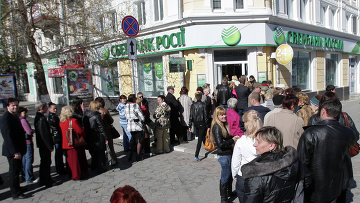 14:19 03/12/2014
MOSCOW, December 3 (RAPSI) – Assets of 24 Ukrainian banks have been seized in Crimea, and will be sold to compensate citizens for losses incurred by Ukrainian banking entities, RIA Novosti reports on Wednesday.
After Crimea joined Russia in March, a number of Ukrainian banks refused to pay out the funds that were in Crimean depositors' accounts.
Foundation for the Protection of Bank Depositors earlier said that it will compensate the losses for deposits that does not exceed 700,000 rubles ($13,800). Currently, 221,000 claims have been accepted from depositors of Ukrainian banks that pulled out from Crimea. 24,6 billion rubles ($472 million) in compensations have been paid out.
According to the fund's chair Andrei Melnikov, the assets seized from the Ukrainian banks will be separated in two equal bulks. The first will refill the funds coffers after compensation payments, and the second will be used to compensate depositors with claims larger than 700,000 rubles.
Crimea, a largely Russian-speaking republic, moved for independence from Ukraine after having refused to recognize the legitimacy of the new government that came to power following the ouster of President Viktor Yanukovich in February.
On March 17, President Putin signed a decree recognizing Crimea as an independent state. The same day, Putin and the leaders of Crimea and the city of Sevastopol signed a treaty on the unification of Crimea with Russia.