Six suspects in Total CEO plane crash to be indicted - official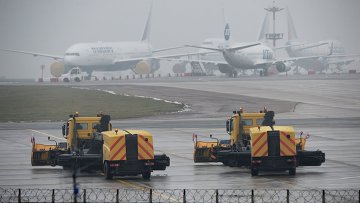 17:32 26/03/2015
MOSCOW, March 26 (RAPSI) – Russian investigators have wrapped up an investigation on six suspects in a plane crash that killed Total CEO Christophe de Margerie, Investigative Committee spokesman Vladimir Markin told journalists on Thursday.
The Falcon business jet attempted to take off when it collided with the snowplow at Moscow's Vnukovo airport. The plane crashed shortly before midnight local time on October 20, 2014, killing Christophe de Margerie and three crew members, all of them French citizens.
Six suspects were detained soon after the accident, including airport engineer Vladimir Ledenev, snowplow driver Vladimir Martynenko and air traffic controller Alexander Kruglov. Air traffic control trainee Svetlana Krivsun and flight supervisor Roman Dunayev were placed under house arrest.
The airport employees stand accused of violation of air traffic rules that resulted in the death of two or more people. They face up to seven years in prison each. All suspects plead not guilty.
They have already started reading the case materials, according to Markin. Then the case will be sent to prosecutors for approval of the indictment. When approved, the case will be referred to court.
Shiftable director of Vnukovo airport Sergei Kosik, head of the Moscow Air Hub (MAH) Vladimir Uzhakov and his deputy Alexander Povaly are still under investigation, Markin said.