Poland charges 2 Russian flight controllers over presidential plane crash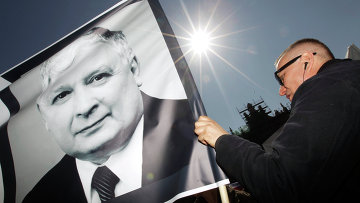 16:37 27/03/2015
WARSAW, March 27 (RAPSI) – Polish military prosecutors bring charges against two Russian air traffic controllers over a 2010 plane crash that killed then President of Poland Lech Kaczynski, RIA Novosti reported on Friday.
At the same time, the military prosecutors have confirmed that the actions of the plane's crew were the direct cause of the crash.
"Experts have agreed that the main cause of the crash was the crew's decision to descend to an unsafe altitude instead of executing a go-around," said prosecutor Ireneusz Szelag from the District Military Prosecutors' Office.
He said that the Polish pilots' actions were not appropriate in the weather conditions that day. "The crew commander had no right to descend to less than 120 meters above ground without the required visual reference," Szelag said.
A Polish Tu-154 plane carrying then President Lech Kaczynski, his wife, and a large group of high-ranking officials crashed near Smolensk due to thick fog on April 10, 2010, killing 96 people.
The Moscow-based Interstate Aviation Committee issued a final report in late July 2011, saying that the crew's decision not to divert to an alternate airfield was a direct cause of the plane crash. Other causes were inadequate flight operations and training standards.
Poland, which carried out a separate investigation, blamed the Russian air traffic controllers for the tragedy.