Bolotnaya activist Udaltsov to serve sentence in Tula Region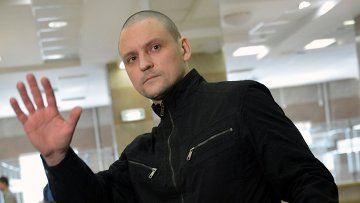 10:32 22/05/2015
MOSCOW, May 22 (RAPSI) – Opposition activist Sergei Udaltsov who received a 54-month sentence for inciting riots at Bolotnaya Square in central Moscow has been transferred to the Tula Region to serve sentence, RIA Novosti reported on Friday.
In mid-March, the Supreme Court upheld a lower court ruling on Udaltsov and another opposition activist, Leonid Razvozzhayev. Both had been sentenced to four and a half years in prison.
Over 400 people were arrested and scores injured in the Bolotnaya Square protest that turned violent on May 6, 2012. Dozens were later charged with inciting mass riots and using violence against law enforcement officers. Several people were given sentences from suspended terms to four years in prison. A few were amnestied, and one is undergoing treatment at a mental hospital.
The case against Udaltsov and Razvozzhayev, along with other opposition figures, was initiated after the "Anatomy of Protest 2" film shown on the NTV broadcasting network. The film claimed that they were organizing a coup using foreign funds. It showed Udaltsov and his companions allegedly talking with Georgian politician Givi Targamadze, who at the time headed Georgia's Parliamentary Defense and Security Committee, and is said to have been involved in masterminding revolutions in Georgia and Ukraine and mass riots in Belarus.
Last summer, the Moscow City Court found that Udaltsov and Razvozzhayev not only organized the riots at Bolotnaya Square in May 2012, but also planned to hold similar actions in other Russian regions.
Udaltsov and Razvozzhayev were accused of organizing mass protests, and were convicted and sentenced in July 2014.