RAPSI is live on the scene as Moscow's Tagansky District Court is expected to issue a decision today on the detention of Bolshoi Theater leading soloist Pavel Dmitrichenko and two suspected accomplices in connection with the brutal acid attack that left Bolshoi Artistic Director Sergei Filin with third degree burns to his face and eyes.
You may find the full text of our previous broadcast here.
LIVE UPDATES
17:57 I suppose we'll wrap up there. Thanks for joining us and enjoy the rest of your day!
17:53 The judge explains that we're here to determine whether he should remain behind bars, not whether he's guilty or innocent. She finds, based on the complexity of the case, that it's appropriate for him to remain in detention.
17:51 Lipatov will remain in detention as well.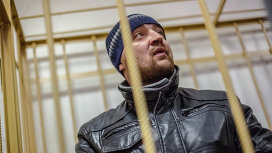 17:47 Everyone has returned. The judge is about to announce her decision.
17:30 A bit of a roundup to give you an idea of what we might be in store for: Dmitrichenko's arguments took 35 minutes, and his deliberation took 50. Zarutsky's arguments took 23, deliberation 20. Lipatov's arguments took 30, and deliberation is currently underway.
17:22 The judge is now deliberating.
17:19 The attorney insinuates that Filin's injuries really can't have been as bad as they were reported to have been, pointing to the fact that he was able to read a protocol in small hand writing.
17:17 Drawing attention to Lipatov's financial situation, Zhorin notes he's working almost for free.
17:16 As Lipatov merely drove the car without any knowledge of what would transpire, his lawyer argues that you could just as easily implicate the gas station attendant who filled up Lipatov's tank, or the chemistry teacher that first introduced sulfuric acid into Zarutsky's awareness.
17:14 Zhorin urges the court not to group his client with the other two defendants. He implores the judge to recognize that the three men simply can't be categorized together. Dmitrichenko is an artist with certain levels of intellect and creativity, and Zarutsky is a repeat offender.
17:11 Referred to by his attorney as an "ordinary village dude," Lipatov urges his innocence, claiming that he only became involved in the case by chance.
17:09 As his family's only bread winner, Lipatov drives a taxi. This, according to his attorney Sergei Zhorin, is how Lipatov came to be involved on that fateful night.
17:08 Lipatov is a native Muscovite. He is officially unemployed and the father of a small child born in 2011.
17:08 Sorry for that delay. We experienced some technical difficulties but we're back in action.
16:49 When asked if he could prove his innocence, Lipatov asserts the presumption of inniocence.
16:47 Lipatov has entered the room. His wife tried to talk to him, but his convoy would have none of that.
16:44 At this point most all of the other journalists have left. But we at RAPSI believe in your right to know the truth. The whole hours- and hours-long truth.
16:44 At this point most all of the other journalists have left. But we at RAPSI believe in your right to know the truth. The whole hours- and hours-long truth.
16:43 And now on to our third suspect, Lipatov - the suspected driver.
16:35 Like Dmitrichenko, Zautsky's detention has been extended.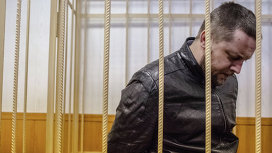 16:30 The judge has returned and is preparing to announce the decision.
16:18 The judge has retired to deliberate.
16:17 Zarutsky vows that he's not going to hide if released, and notes that he really doesn't want to be here.
16:10 Zarutsky really looks the part of "a man sho can solve anything," as he was described in the previous hearing.
16:02 Zarutsky, represented by former Pussy Riot lawyer Nikolai Polozov, maintains his innocence. He points out that Filin had described having been attacked by a 20-year-old kid with black eyebrows. He notes the obvious - his client is 35 and blonde.
15:56 When asked for his own thoughts on the extention of his detention, Zarutsky notes that it would not be desirable with spring finally here.
15:54 The judge rattles off a list of reasons militating against his release on bail, including the fact that he might escape and engage in more criminal activities.
15:50 Zarutsky is a father of two with several past convictions.
15:39 Yuri Zarutsky, alleged Dmitrichenko's accomplice, is next to take the stand. He refuses to talk to the press and tries to keep his face hidden.
15:36 Some of the journalists left.
15:33 Violetta Volkova says an appeal application is ready. Dmitrichenko has just signed it. As soon as the Moscow City Court sets the hearing he wants to present.
15:28 Dmitrichenko once againt thanks his supporters. One of them asks if Dmitrichenko needs anything in the pre-trial detention and if he is going to file an appeal.
15:25 So he is stripped of the opportunity to enjoy his time and play football. The judge tells him he stands accused of a serious crime and faces 12 years behind bars. The judge is convinced Dmitrichenko might intimidate the aggrieved parties and witnesses if released on bail.
15:23 Dmitrichenko's detention extended.
15:21 He is going to play football on his villa if he is released on bail.
15:17 Dmitrichenko is back to the courtroom. That means the judgment will be soon handed down.
14:58 Quite a lot of people still remain in the courtroom.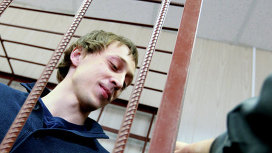 14:45 In the meantime, we've got fresh pictures of the main hero. He looks much better now.
14:39 The court's chairperson strongly recommends everyone to leave the courtroom, get some fresh air and enjoy spring time.
14:36 Dmitrichenko promises to reveal "something interesting" as the trial is approaching.
14:32 Dmitrichenko is dragged out of the courtroom, he appreciates support. Someone claims there is almost half of the Bolshoi staff waiting outside.
14:29 The judge has left for consultation room to write a judgment.
14:26 According to the law the sum of the bail can't go below 500 thousand rubles ($16,500), but relatives of Dmitrichenko are waiting for the judge's estimates.
14:22 Dmitrichenko can't be charged with causing grievous bodily harm because Filin suffered minor burns as a result of an attack, she stresses.
14:19 Dmitrichenko is cooperating with the envistagors, he provides the information over the crime, Volkova says.
14:16 Volkova takes the stand. She explains that Dmitrichenko needs to keep fit and in poor pre-trial facilities he is unable to keep training.
14:14 Dmitrichenko fights back. From his words he is ready to face trial.
14:10 Although even some of the Bolshoi representatives are on Dmitrichenko's side the prosecutors ask for the detention to be extended for another two months. They believe he is able to flee or intimidate those who's already suffered and eyewitnesses. Besides, Dmitrichenko is a public person and might use his position.
14:09 Relatives of Dmitrichenko are ready to stand bail for him. The sum is unknown.
14:03 Volkova is ready to serve as a bail bondsman herself saying she is absolutely confident Dmitrichenko won't flee. "That's probably the fist time I hold the full responsibility for the person not as a lawyer" she tells the judge.
14:00 Violetta Volkova wants the judge to take into consideration numerous documents which characterize her client. There is a claim with 155 signatures among those documents in support of Dmitrichenko.
13:57 Finally, film crews were asked to leave the courtroom, the hearing started.
13:55 Dmitrichenko's looking through the documents he was handed over.
13:53 The courtroom's taking on a very dramatic atmosphere. Currently the film crews are heaving battle cries over space and obstructions. Dmitrichenko's really bringing the Bolshoi ambience to court.
13:50 Dmitrichenko's arrived! And he's looking much better than he did during the last hearing. He's smiling broadly and greeting friends.
13:36 Eager and optimistic camera crews are already filiming. We love your chutspa. This probably doesn't need to be said again, but the defendants are still en route.
13:28 Family members in the audience are less than thrilled with the media presence. Sorry guys - this is what happens when the most famous ballet theater in the world's artistic director gets attacked with sulfuric acid.
13:24 The investigators and prosecutors are also in place. The courtroom is filled with friends, family, and bail bondsmen.
13:23 This is like a Pussy Riot reunion tour. Attorneys Nikolai Polozov and Violetta Volkova, who represented the now-imprisoned punk rockers during their first trial, are in their places. The other attorneys are out to lunch. The defendants - yes, you guessed it - are still en route.
13:21 In case you've been scratching your head for the past hour and a half contemplating the fate of the man with the car wheel, he just left the court building. Apparently his car wheel crisis has been resolved.
13:14 And we're in!! For real this time.
13:10 We're still being told that the defendants are en route. We're beginning to worry about them. What could possibly account for a two hour commute?
13:04 Meanwhile, another paddy wagon rolled up to the court. Starving for some action, the sea of journalists mobbed the truck.... only to discover there was no one inside.
13:00 "Aardvarks have the body of an anteater, the ears of a rabbit, the snout of a pig and the tail of a kangaroo."
12:57 The first aardvark ever to be born in a Russian zoo was born in the Urals city of Yekaterinburg. Take a look at this little guy as we wait for the Bolshoi drama to unfold.
12:56 So until things get underway, let us regale you with some fun, optimistic news stories.
12:52 Things have not yet gotten underway, just for the record.
12:34 Traffic, we call shenanigans. According to our traffic map, they should have been able to make the trip in 32 minutes.
12:30 Still no defendants. Apparently traffic is an epic nightmare battle all over the city today. But rest assured, RAPSI is standing strong.
12:14 When asked about the nature of the defendants' delay, attorney Nikolai Polozov - of Pussy Riot fame - seems confused himself: "Traffic, I think. And a generally slow system." Polozov is representing Zarutsky who - again - is suspected of having actually carried out the attack against Bolshoi Theater Artistic Director Sergei Filin.
12:10 Well hey- let's not let this past hour have passed in vain. Let's use this as an opportunity for a quick cram session. As a reminder, the defendants in the case include Pavel Dmitrichenko - who is suspected of having ordered the attack, Andrei Lipatov - who is suspected of having served as the driver, and Yuri Zartsukov - a man with a reputation, as established at the last hearing, for being able to solve any problem, who is suspected of having actually carried out the attack.
12:00 A little old man tells RAPSI that earlier today the court entertained a case involving a woman who allegedly counterfeited caviar, which was then sold all over Russia.
11:57 To pass the time, the journalists surrounding the court are now playing a guessing game based on the characters who are more successfully entering and exiting the court than we are. For instance - why on earth was that one guy carrying a car wheen into the courthouse?
11:52 In case law is more your thing than ballet, or if you'd just like to look at the star in court, check out these courtroom shots of Dmitrichenko from his first detention hearing. They're in Russian, but you get the gist.
11:47 In case you're bored because it's not springtime in Moscow where you are, check out this photo of Dmitrichenko doing what he does best - being an epic Bolshoi villain: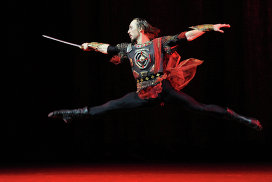 11:39 We remain sans defendants. But hey - springtime in Moscow.
11:35 A bailliff has informed us that the hearing may last til 5pm. But, you know, it was supposed to start 35 minutes ago. Time is a malleable concept.
11:30 We have managed to figure out that Judge Natalia Kovanova will be presiding over today's proceedings.
11:27 Nope - false alarm. That was just a couple of defendants here for another trial. Poor guys were shocked by the media attention.
11:23 A paddy wagon has arrived. Whether the heroes of our drama will emerge, or it's just here for fun remains to be scene.
11:15 A spokesman for the court says that the accused have not yet arrived, adding that it could be another hour or two before things get underway.
11:14 Nope - the bail bondsmen won't be allowed in court.
11:12 There are bail bondsmen in court, probably to support any bail requests.
11:07 We were supposed to be allowed into the building by 11, but that doesn't seem to be happening. The police tell us that by order of the chief justice, we won't be allowed in til the start of the hearing. But hey - springtime in Moscow.
11:05 Just fyi, the police have reported that all investigations are complete in the Dmitrichenko case.
11:01 Still no movement toward the doors, but hey - springtime in Moscow. This is a true rarity. We're not complaining.
10:59 There are no less than a dozen camera crews and 30 journalists outside the courthouse.
10:57 A sea of journalists is currently crowding the entrance of Moscow's Tagansky District Court. Our being-stuck-outside predicament would be much sadder if not for the fact that it's the first truly warm day of spring in Moscow.
10:45 Good morning and thanks for joining RAPSI as we delve into the newest bout of criminal drama to emerge from the world's most famous ballet theater. With you this morning are Anna Shubina and Ingrid Burke.
BACKGROUND
Bolshoi Theater leading soloist Pavel Dmitrichenko and two others have been detained in connection with the acid attack against artistic director Sergei Filin.
Dmitrichenko and the other two detainees have submitted written confessions. Video footage of Dmitrichenko's confession was then leaked and is available here, in Russian.
Dmitrichenko's contended at the initial hearing, however, that he had not intended to cause bodily harm to Filin.
Some have insinuated that Dmitrichenko's confession may not have been truly voluntary. At his initial detention hearing early last month, various of his colleagues claimed that the confession was forced and that despite his explosive temper, he could never cause such harm to another human.
Shortly thereafter upwards of 300 members of the Bolshoi's cast and crew wrote an open letter to the Russian president and government urging his innocence: "Having known Pavel personally for many years, we are convinced that despite his notorious temper, his hot-headedness and his straightforwardness, he is a very decent and sympathetic person who is always ready to extend a helping hand… The investigation's findings seem too rushed, the evidence seems unconvincing and we view Pavel's testimony, which was later changed, as given under pressure."
If convicted, the assailants could face up to eight years in jail for willfully inflicting damage on the health of another.
Sergei Filin, 42, joined the Bolshoi as a dancer in 1988, after graduating from the Moscow School of Choreography. He has also been invited on several occasions to dance with the English, Hungarian and Japanese national ballets, as well as at many other theaters. He ended his dancing career in 2008. In March 2011, he was appointed artistic director of the Bolshoi Theater amid fierce rivalry for the position.
On January 17, an assailant heaved what is believed to have been concentrated sulfuric acid in Filin's face as he attempted to enter his home. Filin suffered third degree burns. Despite initial fears to the contrary, he is expected to recover his vision. Shortly after the attack, a Bolshoi Theater spokesperson confirmed that Filin had recently received threats.
On March 5 the Interior Ministry announced the arrests of the alleged perpetrators of the attack. Yuri Zarutsky, who is suspected of having physically carried out the attack, was detained in Russia's Tver region. Andrei Lipatov, who is suspected of having been the driver in the operation, was also arrested. Leading soloist Pavel Dmitrichenko was arrested on suspicion of having paid the other two to carry out the attack.
A police spokesman echoed this sentiment Tuesday when telling RIA Novosti that "The motive for the crime lies in [Filin's] hostile relations with Dmitrichenko connected to his work."
Filin has speculated the aim of the attack was to remove him as artistic director and destroy the prestigious Moscow ballet company's reputation. Filin is currently undergoing treatment in Germany.