MOSCOW, April 16 – RAPSI. The Russian Legal Information Agency is hosting a live text broadcast of the embezzlement proceedings against whistleblowing blogger turned opposition leader Alexei Navalny.
LIVE UPDATES
10:34 Well, I suppose that's all for now. The judges are off to contemplate competing theories of sound and technology. The Navalny supporters are off touring the wonderful city of Kirov. The Navalny detractors are off doing their thing. And your faithful reporters are heading back to Moscow. But we'll be right back here with you in a week's time when the trial resumes on Wednesday, April 24. Until then, stay tuned for all the latest Navalny drama right here on RAPSI. Thanks for joining us and enjoy your day!
10:32 Meanwhile, outside the courthouse Navalny thanks his supporters and offers to take all those interested on a tour of the city. See guys, your overnight train trip wasn't in vain after all.
10:30 The court is also considering the option of a video stream of the proceedings. The chief justice notes however that, "Your humble servant is not an expert," on these matters, which should really fall under the purview of the judicial department.
10:29 The chief justice anticipates that the trial could last several months, citing its high level of complexity.
10:28 As for accommodating all those poor reporters who apparently weren't dedicated to the cause enough to sleep in the courthouse cafe, he promises to do his best to try to make room for a larger crowd.
10:26 The crowd of journalists implores the chief justice to do something about the sound quality next week. He promises to turn a mic on.
10:24 Check out this picture of Navalny's supporters, standing by their man.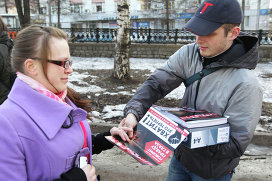 0:20 The chief justice is now taking questions. Fingers crossed he'll turn a mic on this time.
10:15 Navalny notes: "I have the sense that they're feeling the pressure, thus giving rise to this exotic decision."
10:12 Rumors are floating around that the judge himself may give a comment.
10:10 An investigator describes the Kirovles case as "ordinary financial fraud," adding that sufficient evidence has been collected and as such, no additional experts will be required.
10:09 Navalny promises to give a press conference later at his headquarters, with all of his thoughts and sentiments on the case.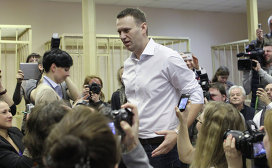 10:05 Lots of nerves and disappointment in the air as the crowds siphon out of the courtroom.
10:00 The anti-Navalny protests have come to an end, but his supporters are still hanging around waiting for him to leave the court. They are determined to not have taken the overnight train from Moscow in vain!
9:50 Well, we floored it with this one. One of RAPSI's all-time fastest trial broadcasts. But don't you worry. We'll be back with you in a week for more Navalny drama.
9:47 "I understand your disappointment, but this was necessary for us," Navalny explains.
9:45 The trial has been postponed for a week.
9:43 Judge Blinov sides with the prosecutors, noting that while it was cool of the local defense attorney to jump on board this late in the game, there's no reason to postpone proceedings for another month.
9:41 Prosecutors let it be known that there is absolutely no reason for postponing the hearing on the merits.
9:40 Politician Boris Nemtsov, pictured here, was among the first in the courtroom to beg the judge to speak up.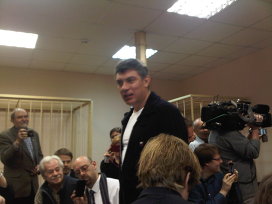 9:39 Prosecutors, obviously, disagree.
9:37 A new defense attorney has been introduced to the case - a local. Recall the jurisdictional issue, which having been very recently resolved would likely have given rise to the need for local legal expertise. Navalny implores the judge for more time, to enable his new attorney to acquaint himself with the case materials. Ofitserov agrees.
9:33 Meanwhile, outside the courtroom an anti-Navalny protest has broken out. People are yelling en masse, "The thief should sit in jail!" A bit earlier this morning a pro-Navalny protest was broken up. Organizers asked participants to stick around, albeit more quietly, in order to support their man.
9:32 Navalny further objects to the fact that he had not yet exhausted all remedies in his motion to have the case transferred to Moscow. He had sought a postponement of the hearing on the merits until a personal jurisdiction decision had been made final, but alas.
9:29 The defense team is still fixating on the amount of time it was given to prepare its case
9:25 The prosecutors are speaking at about the same lull as is the judge. Straining to hear is proving a highly intimate affair for all of us. The windows are closed too. That's probably good for hearing, but we have slight concerns about the oxygen supply.
9:24 Defense attorney Olga Mikhailova raises concern with the amount of time defense was given to prepare its case. She claims to have had only 36 days, clearly not enough in her view.
9:22 Vyatka Timber Company Director Pyotr Ofitserov has been charged alongside Navalny with aiding and abetting in embezzlement.
9:21 Judge Blinov is speaking at a near whisper. All we were able to make out with regard to the victims in the case was the name Pavel Smertin.
9:18 The judge is reading out Navalny's biography. He's married, with children, from Moscow, no past convictions....
9:16 By the way, Judge Sergei Blinov will be residing over today's proceedings.
9:14 Now the issue of whether photo and video recording will be allowed in the courtroom. Prosecution objects, defense doesn't.
9:13 The judge is reading out the rules of the court. Boris Nemtsov implores him to speak louder.
9:12 On his way into the courtroom Navalny joked with journalists, asking how many of us had spent the night in the court's cafe in anticipation of today's proceedings. Turns out some of them actually did.
9:11 The judge has arrived and is beginning the roll call.
09:09 Here's a glimpse of the action just outside of the courthouse. Sorry guys, at least the weather's nice.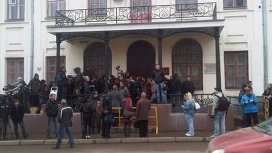 09:08 The courtroom is filled to capacity. Outside tons of journalists are waiting to get. They weren't able to jam us all inside due to security concerns.
09:07 In case Twitter's more your style, be sure to follow our updates here. #Navalny
09:03 He was less vocal than usual this morning, however, noting that he wasn't up for media commentary prior to the start of proceedings.
09:02 En route to Kirov Navalny tweeted that he is awfully happy to return to his old stomping grounds, even if it is to stand trial.
08:59 Navalny himself has already arrived at court, but has not yet entered the courtroom.
08:58 A number of well-known opposition activists and politicians have turned out in support of Navalny this morning, including leftist politician Boris Nemtsov, State Duma deputy Dmitry Gudkov - who recently came under fire for a democracy-advocacy trip to the US, Navalny's wife Yulia, and his spokeswoman Anna Veduta.
08:55 There are tightened security measures at court this morning, as expected.
08:50 Good morning! This begins RAPSI's live coverage from the Leninsky District Court in the town of Kirov, where Alexei Navalny stands trial. Today's reporting will be conducted by Maria Gusarova, Darya Gorbatenko, Ingrid Burke, and Vladimir Yaduta.
BACKGROUND
According to investigators, while serving on a voluntary basis as an adviser to the Kirov region governor, Navalny organized the theft of over 10,000 cubic meters of timber. It was allegedly stolen from Kirovles company between May and September 2009 in collusion with Vyatka Timber Company Director Pyotr Ofitserov and Kirovles CEO Vyacheslav Opalyov.
The regional budget is estimated to have suffered the loss of 16 million rubles ($514,140) as a result.
Navalny said in the interview with Dozhd TV earlier this month that he expected a conviction in the present case and announced his intention to run for the Russian presidency. His pro-opposition supporters maintain that the case is politically motivated.
Investigators have since opened three other criminal cases against Navalny, on charges of embezzling from a political party, deceiving an international cosmetics company and conspiring to privatize a central Russia distillery illegally.
The Kirovles embezzlement case reached the Leninsky District Court in the town of Kirov in late March. If convicted Navalny along with Ofitserov faces up to ten years in prison, and will be ineligible for public office even if slapped with probation. Opalyov, who has entered into an agreement with the prosecution, got 4 years suspended sentence.
Navalny is a Yale-educated political activist. He became famous in Russia as a whistleblowing blogger striving to expose corrupt practices. He then gained recognition for his leading role in the opposition movement that rocked Russia from late 2011 to mid-2012.