Russia's Hermitage Museum recognized as victim in embezzlement case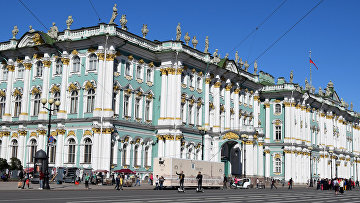 10:44 12/05/2017
MOSCOW, May 12 (RAPSI, Yevgeniya Sokolova) - The State Hermitage Museum in St. Petersburg has been recognized as victim in a case over large scale embezzlement during construction and restoration of the museum's facilities, attorney Natalya Shitikhina told RAPSI.
According to the museum's lawyer, damages caused to the State Hermitage have been covered in part.
In late March, the Federal Security Service's (FSB) officers conducted searches in the State Hermitage Museum.
Searches in the engineering department's buildings were related to a criminal case earlier launched against several individuals allegedly involved in embezzling money during construction of new facilities for the museum's use, the State Hermitage announced on its website. Museum officials provided law enforcement authorities all information required including documents on two construction contracts, according to the statement.
Earlier, Moscow's Lefortovsky District Court placed deputy director of the Hermitage Museum Mikhail Novikov under house arrest. His arrest was reportedly connected with the so-called "case of restorers" opened against ex-Deputy Minister of Culture Grigory Pirumov and several other officials.
Investigators believe that defendants have stolen over 100 million rubles ($1.5 million) of public funds allocated for restoration of cultural heritage objects.
Investigation has presumably started basing on a report by the Audit Chamber on restoration of the Izborsk Fortress in the Pskov region presented yet in 2013; however, it may also involve such cultural heritage sites as the State Hermitage in St. Petersburg and the Novodevichy Convent in Moscow, as well as works carried out at the Ivanovsky Convent in Moscow, a theater in Pskov and several other objects, as previously reported.