MOSCOW, September 24 (RAPSI) – Crimea's State Council has nationalized three tourist resorts and one hotel that belonged to companies associated with Dnepropetrovsk Region Governor Ihor Kolomoisky, RIA Novosti reported on Wednesday.
The State Council first addressed the nationalization issue on September 3, when it approved a list of 65 facilities owned by the Ukrainian oligarch, including several holiday hotels, 16 filling stations and the offices of Privatbank.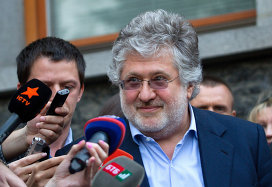 The nationalization list approved on Wednesday, September 24, includes holiday hotels Energetik, Massandra and Kastropol and the Hotel Crimea, located in Yalta.
In all, over 100 of Kolomoisky's assets have been nationalized in Crimea.
Russian Investigative Committee spokesman Vladimir Markin has said that all of Kolomoisky's assets in Russia would be seized, and that one of his assets, an office building in central Moscow, had been seized.
Ihor Kolomoisky has been charged in Russia under the Criminal Code articles on "the masterminding of murder, the use of prohibited methods and means of warfare, abduction, and the hindering of the legitimate activities of journalists." It is also believed that he is sponsoring the ultra-nationalist Right Sector and several armed groups that are fighting anti-Maidan forces in eastern Ukraine.
Kolomoisky's personal wealth is estimated by Forbes at $1.8 billion, which makes him the fourth richest man in Ukraine.