WASHINGTON, October 7 (RAPSI) – The United States is urging Russia to identify and prosecute those who ordered the murder of journalist Anna Politkovskaya, the US Department of State said in a statement released Tuesday.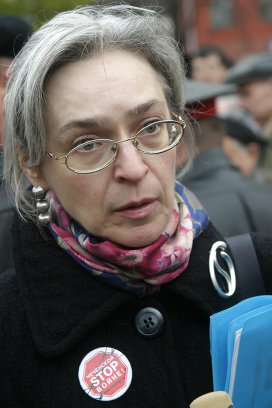 On October 7, 2006, Anna Politkovskaya, a crusading reporter with the independent newspaper Novaya Gazeta, was shot and killed at the age of 48 in the elevator of her central Moscow apartment building. The murder has been linked to her coverage of human rights abuses in Chechnya.
In June 2014, the Moscow City Court convicted five people for her murder. Rustam Makhmudov and Lom-Ali Gaitukayev were sentenced to life in prison. Their accomplices, brothers Ibragim and Dzhabrail Makhmudov and former police officer Sergei Khadzhikurbanov, were sentenced to 12, 14 and 20 years in a maximum security penal colony, respectively. The court also fined them 5 million rubles ($125,000) payable to the late journalist's children.
US State Department Spokesperson Jen Psaki said in a statement timed to the eighth anniversary of the reporter's murder that the United States was concerned that the masterminds of Politkovskaya's murder were still at large.
"The conviction in June of five people involved in the crime was a welcome step, but we continue to be concerned that the mastermind of her killing still has not been brought to justice. We urge Russian authorities to build on this year's convictions and identify and prosecute the person who ordered this terrible crime," the statement reads.
Psaki also underscored the need to bring to justice those responsible for the murder of Paul Klebnikov, Timur Kuashev, Akhmednabi Akhmednabiyev, Kazbek Gekkiyev and other Russian reporters.
"Impunity for these crimes, as well as for many other acts of violence against journalists and activists in recent years, has only worsened the atmosphere of intimidation for those who work to uncover corruption or human rights abuses," Psaki concluded in the press release.