State Duma will not collaborate with Magnitsky Act author to battle corruption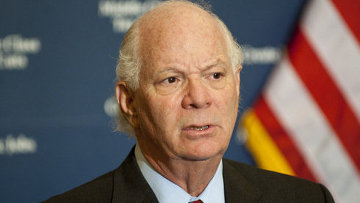 17:32 21/03/2013
MOSCOW, March 21 - RAPSI. The Russian State Duma will not cooperate with US Senator Ben Cardin, the author of the Magnitsky Act, in revealing the accounts and undeclared real estate owned by Russian officials, head of the Duma's Committee for International Affairs Alexei Pushkov told journalists on Thursday.
The Duma is ready to cooperate in the struggle against corruption with those congress members who are sincerely interested in overcoming this blemish, but not with those who use it to confront Russia, Pushkov said.
Cooperation makes sense only if it works to uncover corruption schemes in Russia and the United States, and to expose Russian and US citizens involved in them.
Earlier, the media reported that head of the Duma's commission for deputy income control, Nikolai Kovalyov, had met with members of the US Congress to discuss cooperation in searching for information on the accounts and undeclared real property of Russian officials.
In mid-February, President Vladimir Putin submitted amendments to the State Duma on the Law on the Government, which will ban top state officials from having bank accounts and securities abroad.
On December 6, 2012, the US Senate approved the Magnitsky Act, stipulating visa sanctions for Russians who are believed by the US Congress to have been involved in human rights violations. The law evoked severe criticism from the State Duma.
The bill was introduced by a group of US senators in the spring 2012. They suggested compiling a list of Russian officials allegedly linked to the death of Hermitage Capital lawyer Sergei Magnitsky while in pretrial detention in Moscow, in exchange for the repeal of the Jackson-Vanik amendment, a law which hindered US-Russian trade relations.
Sergei Magnitsky, an auditor at the London-based Hermitage Capital investment fund, was arrested on November 24, 2008, on suspicion of having masterminded large-scale corporate tax evasion. He died while in pretrial detention on November 16, 2009, after spending a year behind bars.
According to the Prosecutor General's Office, Magnitsky died of heart failure. Magnitsky's death evoked an international outcry, triggered amendments to the Criminal Code and a reshuffling of officials in the penal system.
Shortly after US President Barack Obama signed the bill into law in December, Russia banned US citizens from adopting Russian children.