Tymoshenko not to attend appeal hearing due to poor health - counsel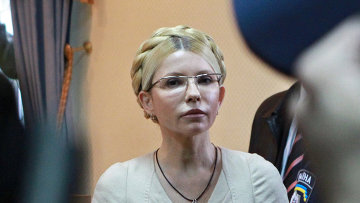 17:20 02/12/2011
KIEV, December 2 - RAPSI. Former Ukrainian Prime Minister Yulia Tymoshenko will not attend the appeals hearing on December 13 due to her poor health, her defense counsel Sergei Vlasenko said on Friday. The appeals court is expected to hear the appeal of her prison sentence in the "gas case."
A Kiev court of appeals held the preliminary appeal hearing on Thursday. Tymoshenko could not attend the hearing for health reasons. Tymoshenko has been under arrest for almost four months and her health has seriously deteriorated during her detention. She feels sick and remains in bed, her defense said. Meanwhile, the State Penitentiary Service said yesterday that Tymoshenko's health is getting better.
A Kiev court of appeals dismissed on Thursday Tymoshenko's petition to change the measure of restraint and to release her on her own recognizance not to leave.
A Kiev district court sentenced Tymoshenko on October 11 to seven years in prison for abuse of power in signing gas contracts between Ukraine's Naftogaz and Russia's Gazprom in 2009. Both her defense attorneys and opposition activists believe her prosecution is driven by politics, while the authorities have denied such allegations.