Ukrainian national oil and gas giant denies losses pinned on Tymoshenko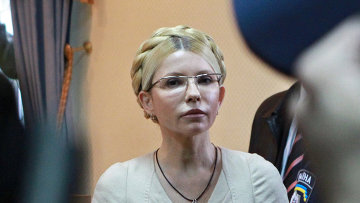 18:06 13/12/2011
KIEV, December 13 - RAPSI. Naftogaz of Ukraine has not sustained any losses as a result of gas contracts with Russia and former Ukrainian Prime Minister Yulia Tymoshenko was groundlessly accused of this, said former company's representative Igor Kost at a Tuesday briefing in the Kiev Court of Appeals which began to hear Tymoshenko's appeal against her sentence in the "gas case."
A Kiev district court sentenced Tymoshenko on October 11 to seven years in prison for abuse of power in signing gas contracts between Ukraine's Naftogaz and Russia's Gazprom in 2009. The judge declared that Tymoshenko abused her powers as prime minister and issued directives regarding gas contract negotiations in Moscow, which were poorly documented and missed the government's consent.
The Pechersky district court also ordered her to compensate Naftogaz 1.516 billion hryvnias (roughly $189.5 million) in losses.
"The losses Tymoshenko is charged with in this criminal case are groundless, there are no such losses in Naftogaz accounts," said Kost.
Therefore, the case was opened without valid reasons, he thinks. He emphasized that the claim was based on a letter from Prosecutor General's Office rather than on the actual losses.
"The claim is based not on existing losses, but on the Prosecutor General's Office letter to Naftogaz alleging it had established some losses. These hypothetical and unproven losses were stated in the criminal case," said Kost.
He also reminded of his position concerning the case, which was the reason why he had to leave the company.
The court judgment has caused a public outcry both in Ukraine and abroad.