Tymoshenko denied repeat preliminary hearing of appeal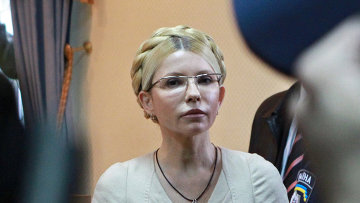 16:50 14/12/2011
KIEV, December 14 - RAPSI. An appellate court has refused to hold the second preliminary hearing of an appeal filed by former Ukrainian Prime Minister Yulia Tymoshenko against a district court's sentence, RIA Novosti reports from the courtroom.
The first preliminary session on her appeal failed to resolve several issues, which rendered continuing the trial useless, the noted attorneys.
"The panel of judges has ruled to turn down the application for the second preliminary hearing," Presiding Judge Yelena Sitailo said, adding that the court saw no grounds to satisfy the application.
The court declared a technical recess until 2:30 p.m. (4:30 p.m. Moscow Time).
A Kiev district court sentenced Tymoshenko to seven years in prison for abuse of power in signing gas contracts between Ukraine's Naftogaz and Russia's Gazprom in 2009.
Several criminal cases have been opened against Tymoshenko. The cases bear on her work as the head of the United Energy Systems of Ukraine in the 1990s.