Court involves Federal Security Service in airline's bankruptcy case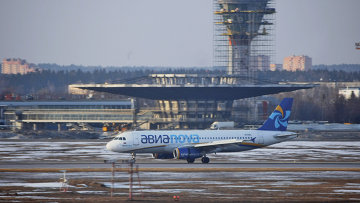 14:24 29/02/2012
MOSCOW, February 29 - RAPSI. The Moscow Commercial Court suspended until April 23 its hearing of the Avianova airline's bankruptcy and involved the Federal Security Service (FSB) in the case, the Russian Legal Information Agency (RAPSI/rapsinews.com) reports on Wednesday.
Judge Igor Romanchenko said the FSB must inform the court about whether the airline used national security information in its daily activities. Depending on the response, the court will issue an appropriate security clearance for the bankruptcy administrator.
Avianova's bankruptcy petition was filed by Averon, which seeks to recover 2.3 million rubles ($79,400) from the airline.
According to Avianova, the airline's total debt is 586 million rubles ($20.2 million), while its assets and equipment are worth slightly more than 4 million rubles ($138,100). The company also said it has 16.1 million rubles in receivables.
The Federal Air Transport Agency (Rosaviatsia) revoked Avianova's operations license in January 2011. The airline ceased its flights on October 10, 2011. The license was withdrawn after the three-month suspension period expired.
Avianova paid over 91 million rubles ($3.1 million) to its passengers by December 28, 2011 for canceled flights.
Avianovas bankruptcy was triggered by a conflict between the airlines two major shareholders - the Russian А1 investment firm, part of the Alfa Group, and the U.S. Indigo Partners fund.