US concerned over new charges against Navalny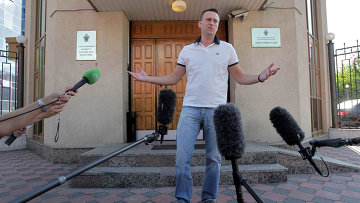 10:08 01/08/2012
WASHINGTON, August 1 - RAPSI. The United States is concerned by new charges brought against Russian lawyer, blogger and opposition figure Alexei Navalny, U.S. State Department spokesman Patrick Ventrell said at a State Department briefing on Tuesday.
"I'd like to say that we are concerned by new charges brought against Russian activist Alexei Navalny. This follows investigations against other May 6 demonstrators and the trial of members of a punk band who have been held in detention since March," said Ventrell.
Ventrell believes the prosecution of Navalny, Pussy Riot and other oppositionists is politically motivated.
The Investigative Committee once again leveled charges against Navalny in the Kirovles timber company case on Tuesday.
Navalny has been charged with the organization of large-scale property misappropriation.
Navalny previously served as an adviser to the Kirov region governor. Earlier, investigators looked into Navalny's work in this area and concluded that he persuaded the Kirovles management into signing an unfavorable timber contract.
He has been allowed to remain free on his own recognizance.
Navalny was also involved as a witness in the case of May 6 riots. Clashes with the police flared up by the time a protest procession across Moscow which had been approved by the authorities reached Bolotnaya Square. Tens of people on both sides were injured. The police detained over 400 protesters.
In June investigators searched the homes of the rally organizers and participants, including those of Navalny, the Udaltsovs, Ilya Yashin and Boris Nemtsov.