Three suspects in Moscow riots case challenge co-accused's guilty plea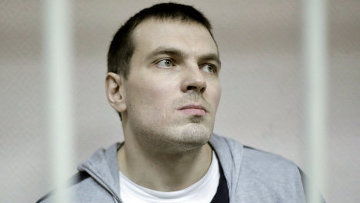 11:37 07/11/2012
MOSCOW, November 7 - RAPSI. Andrei Barabanov, Denis Lutskevich and Artyom Savyolov - three of the suspects implicated in the May Moscow riots case - have filed a motion with the Moscow Zamoskvoretsky District Court to have the case of Maxim Luzyanin - another suspect who has pled guilty to all charges - returned to the prosecutor's office, Kommersant daily news reported on Wednesday.
On November 9, the court is planning to consider Luzyanin's case under a special procedure as he has admitted his guilt in full.
His co-accused fear that Luzyanin's guilty plea will violate the defense of others accused of involvement in the riots in Bolotnaya Square on May 6 in Moscow."The court will be obligated to consider our motion. A separate proceeding cannot be initiated if it concerns the interests of other parties," speaking to the point, Dmitry Dinze, Lutskevich's attorney, told Kommersant.
Maxim Luzyanin has been charged with taking part in mass riots and using violence against a law enforcement officer.
Clashes with the police flared up on May 6 during an officially sanctioned opposition march across Moscow. Dozens of protesters and police officers were injured.
The police detained over 400 rally participants.
In June, investigators searched the homes of the rally organizers and participants, including those of Alexei Navalny, Sergei Udaltsov, Ilya Yashin, and Boris Nemtsov. A total of 18 individuals were detained in the investigation.
Among them are: Denis Lutskevich, Alexandra Dukhanina, Andrei Barabanov, Maxim Luzyanin, Yaroslav Belousov, Rikhard Sobolev, Vladimir Akimenkov, Oleg Arkhipenkov, Fyodor Bakhaov, Artem Savyolov, Alexander Kamensky, Mikhail Kosenko, and Stepan Zimin.
Kamensky was later released. No charges were brought against him.
Maria Baronova, who was released, is also a suspect in the case.
Luzyanin, Barabanov, Zimin, Lutskevich, Dukhanina, Belousov, Savyolov, and Kosenko have been charged with inciting the riots. Nearly 1,300 people have been summoned to testify in the case.