Final charges brought against two suspects in Moscow May riots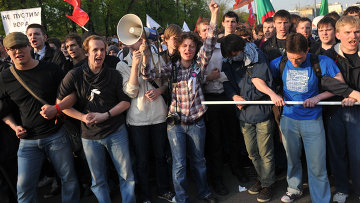 17:15 22/11/2012
MOSCOW, November 22 - RAPSI, Maria Petrova. Final charges have been brought against Artyom Savyolov and Andrei Barabanov, suspects in the case on May 6 riots in Moscow, Dmitry Kolbasin, a representative of the interregional human rights association Agora, told the Russian Legal Information Agency (RAPSI/rapsinews.com) on Thursday.
He said that the Investigative Committee charged Savyolov and Barabanov with using violence not dangerous for life and health regarding law enforcement officers due to their execution of duties and taking part in mass riots accompanied by violence.
Savyolov denied the charges.
After May 6, the opposition continued its protests in the form of "people's promenades," wherein crowds of opposition activists walked peacefully together through the city in a show of opposition.
In June, investigators searched the homes of the rally organizers and participants, including those of Alexei Navalny, Sergei Udaltsov, Ilya Yashin, and Boris Nemtsov. A total of 18 individuals were detained in the investigation.
Ten individuals are on remand. They include: Alexandra Dukhanina, Alexei Polikhovich, Yaroslva Belousov, Denis Lutskevich, Rikhard Sobolev, Vladimir Akimenkov, Oleg Arkhipenkov, Fedor Bakhov, Alexander Kamensky, Mikhail Kosenko.