Investigations intensify against Ukrainian presidential bodyguard accused of espionage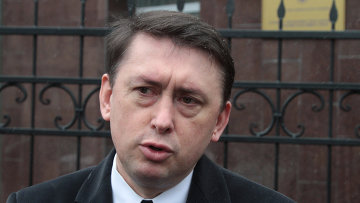 12:45 09/01/2013
KIEV, January 9 - RAPSI, Alexander Savochenko. The Ukrainian Prosecutor General's Office has submitted materials in a criminal case pending against the former bodyguard of ex-Ukrainian President Leonid Kuchma for further investigation, Melnichenko's attorney Mykola Nedilko told RIA Novosti on Tuesday.
Melnichenko stands accused of disclosing state secrets.
"An investigator told me that the case has been submitted for further investigation as it is thought that the pre-trial investigation was incomplete. It was returned to the investigation stage as there were few counts against Melnichenko in the case," Nedilko said.
The Ukrainian authorities closed the investigation into the criminal case against Melnichenko in late December and submitted the indictment to the prosecutor general's office for approval.
Melnichenko was detained at the Boryspil International Airport on October 24 and taken into custody afterwards. He was charged with the disclosure of state secrets, abuse of power, and falsification of evidence.
The bodyguard became widely known after he recorded the voice of an individual who sounded like Kuchma giving orders in the presidential office to "settle affairs" with journalist Georgy Gongadze, whose beheaded body was later found in the Kiev Region in autumn 2000.
As a result, Kuchma was accused of involvement in the murder. However, the court ruled that the case against him did not hold, as the recording had been made illegitimately.
While living in the US, Melnichenko claimed that he had audio recordings that could prove former Prime Minister Yulia Tymoshenko's involvement in the assassination of Ukrainian businessman and politician Yevheny Shcherban at the Donetsk airport in 1996.