Tymoshenko wants to be present during murder witness testimony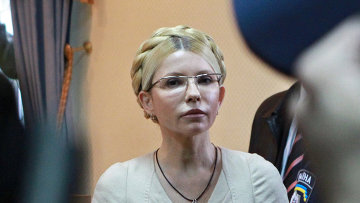 18:42 07/02/2013
KIEV, February 7 – RAPSI. Jailed former Ukrainian Prime Minister Yulia Tymoshenko says she wants to be present during the questioning of witnesses in the murder trial of MP and businessman Yevhen Shcherban, her defense attorney Sergei Sas told journalists on Thursday. Tymoshenko is suspected of some involvement in the case.
Shcherban, the head of the financial corporation Aton, was shot and killed at Donetsk airport in November 1996. His wife and an airport employee were also killed during the incident.
On Thursday, Tymoshenko refused to take part in the trial via video link. Tymoshenko, who is being treated at a hospital in Kharkiv, had previously received a notice to take part in the trial through a video link.
The former prime minister has filed a motion with Kiev's Pechyorsky District Court, that would allow her to attend the trial, said Sas, who met with Tymoshenko at the hospital Thursday morning.
Tymoshenko does not feel it is equitable to hear the questioning of witnesses via video, Sas said. He added that the former prime minister is currently receiving hospital treatment and would be able to attend the trial after her recovery. In October 2011, Tymoshenko was sentenced to seven years in prison for abuse of power based on a 2009 gas contract that she signed with Russia. In late March, a second case bringing further charges against Tymoshenko was filed with Kharkiv's Kievsky District Court. The case deals with her activity at United Energy Systems. She has also been accused of misappropriating funds.