Alyokhina to be present at next sentence mitigation hearing - source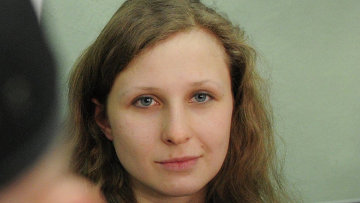 14:20 05/09/2013
MOSCOW, September 5 (RAPSI) - Pussy Riot member Maria Alyokhina has been granted the right to be present at her next sentence mitigation hearing, which will be held on September 26, Pyotr Verzilov, husband of the other jailed Pussy Riot member Nadezhda Tolokonniokova, told RAPSI on Thursday.
According to the motion, Alyokhina has discharged over half of the assigned term of punishment, thus givinr rise to her right to substitution of confinement by lighter punishment.
The full term of Alyokhina's sentence is set to expire in March 2014.
In February 2012, five young women wearing brightly colored balaclavas staged a punk rock prayer in Moscow's Christ the Savior Cathedral. An edited video of their performance was posted on the Internet and caused a public outcry.
In August 2012, the Khamovnichesky District Court in Moscow sentenced Alyokhina, Tolokonnikova and another Pussy Riot member - Yekaterina Samutsevich - to two years in a prison settlement on charges of hooliganism.
In October 2012, the Moscow City Court suspended Samutsevich's sentence and released her immediately based on her new attorneys' argument that she had been seized by security guards prior to reaching the altar.
The sentences of Alyokhina and Tolokonnikova were upheld.
Alyokhina has been transferred earlier in August to serve her prison term to Nizhny Novgorod region while Tolokonnikova remains in Mordovia.