Navalny's appeal in timber embezzlement trial moved to October 16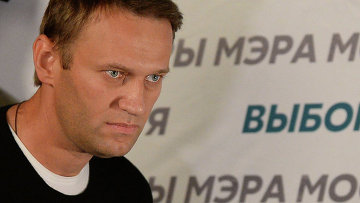 14:20 04/10/2013
MOSCOW, October 4 (RAPSI) – The Kirov region court moved the hearings of opposition leader Alexei Navalny's appeal against his sentence in a tiber embezzlement case to October 16.
It was earlier reported that on October 9, two Russian courts will hold hearings of two cases that involve Alexei Navalny as the accused. The Moscow City Court was scheduled to hear the appeal against the fraud case against Alexei Navalny and his brother Oleg, on suspicion of embezzling 55 million rubles from the Yves Rocher cosmetics company. The court in Kirov was scheduled to proceed with the appeal against the opposition leader's sentence in the Kirovles timber embezzlement case.
Navalny later declared that he will not be present at the Kirov hearings.
In December 2012, the Investigative Committee described the charges pending against the Navalny brothers as follows: "Oleg and Alexei Navalny embezzled over 55 million rubles from a trade company... In order to legalize the illegally obtained funds, the Navalny brothers transferred over 19 million rubles ($587,415) under false pretexts from a fly-by-night company to an account belonging to the Kobyakovo Willow Weaving Factory, which was also founded by the brothers."
Over time, information surfaced that the trade company is being referred to the Russian operation of the French cosmetic giant Yves Rocher.
Alexei Navalny was found guilty of timber embezzlement in July stemming from a stint spent serving as an advisor to Kirov governor Nikita Belykh between May and September 2009. According to investigators, Navalny organized the theft of over 10,000 cubic meters of timber during that period in collusion with Vyatka Timber Company Director Pyotr Ofitserov and Kirovles CEO Vyacheslav Opalyov.
He was sentenced to five years in a penal colony, and his co-accused Pyotr Ofitserov received a four-year sentence. The two were held liable to pay a one million ruble fine between them.