Russian opposition activist Udaltsov handed down Moscow-riot indictment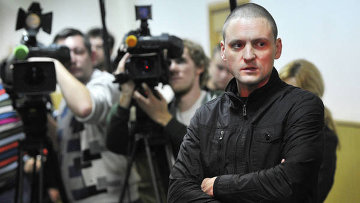 16:51 06/12/2013
MOSCOW, December 6 (RAPSI) - Left Front leader and opposition activist Sergei Udaltsov on Friday received from the Prosecutor General's Office a 793-page indictment connected with the 2012 Moscow riot case, lawyer Violetta Volkova told RAPSI.
According to Russia's Investigative Committee, the inquiry directed against Udaltsov and activist Leonid Razvozzhayev has been completed. A pre-trial hearing is expected to be scheduled sometime in the second half of December and the first hearing on the merits will be held after the New Year holidays, Udaltsov's lawyer Nikolai Polozov said earlier.
The case will be considered by the Moscow City Court.
Udaltsov has been accused of organizing riots and using violence against police during a rally on May 6, 2012 in Moscow's Bolotnaya Square and organizing mass riots in Russia. In October 2012, he was ordered not to leave the city. On February 8, investigators requested to have him placed under house arrest, as he allegedly violated the former ruling.
Udaltsov and Razvozzhayev along with other opposition figures were involved in the case concerning the planning of mass riots, which was initiated after the "Anatomy of Protest 2" film was shown on the NTV broadcasting network. The film claimed that the opposition was organizing a coup using funds from abroad and showed Left Front movement coordinator Sergei Udaltsov and his companions allegedly talking with Georgian politician Givi Targamadze, who at the time headed Georgia's Parliamentary Defense and Security Committee, and is said to have been involved in planning the "color" revolutions in Georgia and Ukraine, as well as the mass riots in Belarus.