Russian nationalist to remain jailed in judge's murder investigation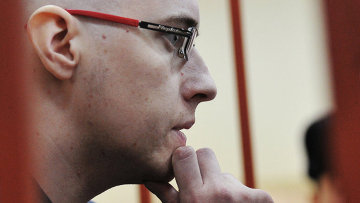 13:47 29/01/2014
MOSCOW, January 29 (RAPSI) – The Moscow City Court has upheld the detention of Ilya Goryachev, who is suspected of involvement in a notorious extremist movement and the alleged murder of judge Eduard Chuvashov, lawyer Nikolai Polozov told RAPSI on Wedensday.
The court thus rejected an appeal filed by Goryachev's defense against the detention. The lawyers are going to turn to the European Court of Human Rights (ECHR).
Goryachev has been detained in Russia after the extradition from Serbia. According to Polozov, there was no new hearing in Russia following the extradition, or a legally valid ruling to detain Goryachev.
The Basmanny District Court in Moscow earlier ordered Goryachev's arrest in absentia. He was arrested in Serbia in May of this year, and then extradited to Russia on November 8.
Goryachev has been put on the international wanted list in connection with criminal charges against extremists from the Militant Organization of Russian Nationalists (BORN) and others. The extremist group is charged with banditry, illegal weapons trafficking, and several counts of homicide, including federal judge Chuvashov and lawyer Stanislav Markelov.
Chuvashov was shot and killed in the stairwell of his Moscow apartment building in 2010. During his career with the Moscow City Court, he reviewed over 20 high-profile criminal cases, some of which involved murder on ethnic grounds.
Markelov was shot and killed in Moscow on Jan. 19, 2009. According to the investigation, Markelov was murdered for his active participation in an anti-fascist movement. The group is accused of having attempted 11 murders.
In early November, it became known that Goryachev's implication in Chuvashov's murder has not been confirmed.