Nickel king Potanin's son won't testify in alimony case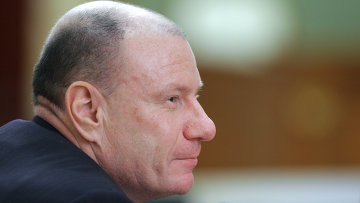 15:10 23/06/2014
MOSCOW, June 23 (RAPSI) – Magistrate Court No. 418 of Moscow's Presnensky District has ruled against hearing the testimony of the son of Interros President and Norilsk Nickel CEO Vladimir Potanin, who filed a lawsuit to change the procedure for the transfer of child support money to his former spouse, Natalya Potanina's attorney Filipp Ryabchenko told RAPSI.
Ryabchenko said that Vasily, 15, has the legal right to express his attitude toward his father's intention to restrict his mother's right to dispose of these funds, but the court ruled against hearing his testimony.
The litigation has been suspended until June 26.
At the request of the plaintiff, the hearing of Potanin's lawsuit to change the alimony/child support procedure in favor of his underage son began on Monday behind closed doors. The court said that Potanin is a public person who has a right to privacy.
On Monday, Judge Svetlana Kopchak refused to honor the request for recusal made by Natalya Potanina's attorneys. Filipp Ryabchenko argues that the judge who previously heard Potanin's divorce suit cannot be objective because during the divorce hearing, she "refused to allow Potanina's representatives to study the case materials, and did so in an inadmissible manner," and also wrongfully included reference to the actual separation of the couple in the reasons for judgment.
Vladimir Potanin's divorce from his wife, Natalya Potanina, became final in February. Potanin is worth $14.5 billion. His company, Interros, is a conglomerate headquartered in Moscow with interests that include mining (in particular, 30% of Norilsk Nickel), finance, agriculture, tourism, energy, retail and real estate.
Potanin has a reputation for philanthropy and endorsed Bill Gates' and Warren Buffet's "Giving Pledge" promising to give a significant portion of his net worth to the poor in undeveloped countries.