Colleague of murdered opposition politician Nemtsov lodges complaint with ECHR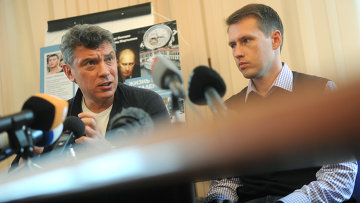 13:14 26/05/2015
MOSCOW, May 26 (RAPSI) - Leonid Martynyuk, a colleague of Russian opposition politician Boris Nemtsov who was shot dead in February, has filed a complaint with the Strasbourg-based European Court for Human Rights (ECHR) over his prosecution and detention, Martynyuk's lawyer, Alexander Popkov, told RAPSI on Tuesday.
In his complaint Martynyuk states that the actions of Russian officials violate several articles of the European Convention on Human Rights including Article 5 that provides that everyone has the right to liberty and security of person, Article 6 that protects the right to a fair trial and Article 10 that guarantees freedom of expression.
Martynyuk was arrested when he was coming back from the Russian resort town of Sochi to his home in Krasnodar in 2014, according to Popkov. He was convicted of disorderly conduct and put in detention for ten days, the lawyer said.
Popkov claims the arrest and detention to be unlawful.
Boris Nemtsov, previously a high-ranking government official who joined the opposition, was shot and killed on February 27 in central Moscow. Investigators are working on several versions of the crime, including contract murder.
Nemtsov and Martynyuk worked on two critical reports. One of them, titled "The Life of a Galley Slave", alleged corruption surrounding the 2014 Winter Olympics, which were hosted in Sochi.