Trust Bank's lawsuit against Cypriot firm to be heard on October 15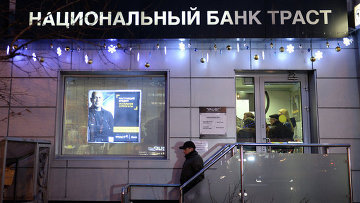 13:15 07/09/2015
MOSCOW, September 7 (RAPSI) – The Moscow Commercial Court has postponed the hearing of a $71.5 million lawsuit filed by Trust Bank against Cyprus-based TIB Investments Limited until October 15, RAPSI reported from the court on Monday.
Trust Bank filed a lawsuit to recover debts under four deliverable forward contracts signed on June 23, 2009 as part of a general agreement on lending and foreign exchange contracts dated January 12, 2006.
On Monday, Cyprus-based TIB Investments Limited filed a counterclaim with the Moscow Commercial Court, asking that the court declare the contracts void due to the allegedly deceptive nature of the transaction. TIB Investments Limited said the disputed transactions, of which there were about 30, were non-deliverable forward (NDF) contracts.
Midsized lender Trust Bank reported losses of 18.8 billion rubles (about $270mn) in 2014 amid the financial crisis. As of December 1, 2014, its assets were estimated at over 290 billion rubles ($4.1bn).
The Central Bank estimated that the bank's debts exceeded the value of its assets by 67.8 billion rubles (about $970mn).
Last April, the Ministry of the Interior announced that it had opened a criminal case against several managers at Trust Bank.
Investigators claim that between 2012 and 2014, former deputy board chairman of the bank Oleg Dikusar, former Trust Bank CFO Yevgeny Romakov, and several unidentified persons allegedly forged loan agreements for over 7 billion rubles with several Cyprus-based companies and for over $118 million with companies registered in other jurisdictions.
The Tverskoy District Court of Moscow extended detention for Dikusar, who is charged with embezzlement, until August 23. Dikusar faces up to 10 years in prison and is being investigated for involvement in several other crimes. The court also ordered that Romakov be held until August 24.