Cypriot firm ordered to pay Trust Bank $113.5 million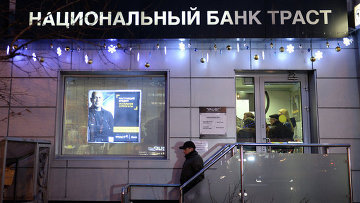 16:00 01/10/2015
MOSCOW, October 1 (RAPSI) - The Moscow Commercial Court has ordered Cyprus-based Erinskay Investment Limited to pay Trust Bank $113.5 million, according to court records.
The hearing was held behind closed doors because of bank secrecy.
Currently, the Moscow Commercial Court is hearing over a dozen of lawsuits filed by Trust Bank against foreign debtors to collect about 30 billion rubles and about $100 million.
Specifically, the bank is suing Baymore Investments Limited for 6.7 billion rubles ($102 mln), Edenbury Trading Limited (Bermuda Islands) for 5.6 billion rubles ($85mln) and TIB Investments Limited for $71.5 million.
Midsized lender Trust Bank reported losses of 18.8 billion rubles (about $286 mln) in 2014 amid the financial crisis. As of December 1, 2014, its assets were estimated at over 290 billion rubles ($4.4bln).
The Central Bank estimated that the bank's debts exceeded the value of its assets by 67.8 billion rubles ($1 bln).