Moscow police detains over 100 drunk drivers overnight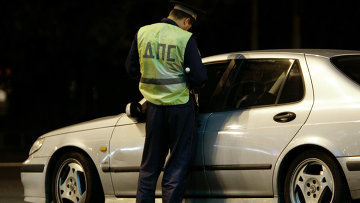 16:56 22/10/2012
MOSCOW, October 22 - RAPSI. Moscow police officers detained over 100 drunk drivers in a raid early Saturday morning, the Moscow State Road Traffic Safety Inspectorate Department has reported on Monday.
Due to the increasing number of drunk driving cases and associated tragedies, the department decided to conduct the "Drunk Driver" preventive measure on October 20.
"The total number of drunk drivers detained was 106," the department said. "Ninety-four drivers refused to undergo medical tests."
A similar raid was held in late September. Over 80 violators were detained in the first day of the five-day raid. The total number of drivers detained reached 752.
The question of whether the government should increase the punishment for drunk driving was raised after an accident in Moscow when a drunk driver rammed into a bus stop, killing seven people.
A bill seeking to increase the punishment is pending in the State Duma.
At the moment, drunk driving is penalized by revoking a driver's license for 1.5 to 2 years. The amendments will increase the term to three years and impose a 50,000 ruble ($1,616) fine. If an individual who has earlier had his license revoked is again detained for drunk driving, the current 15 day arrest will not be applied. Instead, he will be sentenced to either three years in prison or community service.