Ukrainian opposition planned to accuse President of MP's murder - report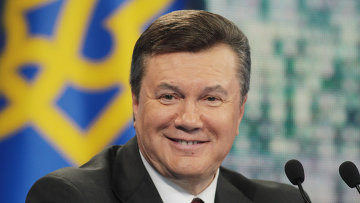 16:56 28/05/2013
KIEV, May 28 (RAPSI) - There was an attempt to launch a smear campaign by Ukrainian opposition against President Viktor Yanukovych over the murder of businessman and MP Evhen Shcherban in 1996, Ukraine's First Deputy Prosecutor General Renat Kuzmin told Forbes.ua.
Shcherban, the chief of the Aton financial corporation and a deputy in the Supreme Rada, was shot dead at Donetsk International Airport in November 1996. His wife and an airport employee were also killed.
The Prosecutor General's Office claims that the murder was ordered by former prime ministers Tymoshenko and Lazarenko.
According to the investigators, Shcherban stood in the way of making United Energy Systems of Ukraine, which Tymoshenko headed at the time, the Donetsk Region's monopoly gas distributor. The investigators claim that Tymoshenko and Lazarenko paid $2.8 million for Shcherban's murder.
The Czech Republic has granted asylum to Tymoshenko's husband Oleksandr and former Economy Minister Bohdan Danylyshyn.
"It is a fact that events were held in the Czech Republic (...) to discredit the Ukrainian authorities and personally President (Yanukovych). Political asylum was granted to certain people to give them an opportunity to falsify the case materials. According to (former State Guards Department Major Mykola) Melnichenko, they considered the possibility of accusing President Viktor Yanukovych of organizing Shcherban's murder," Kuzmin said in an interview published on the Forbes.ua website on Tuesday.
Kuzmin said Melnichenko was allegedly offered payment for helping to falsify audio tapes to confirm the allegation.
"Melnichenko has made an official statement on this issue, which we are checking," Kuzmin said without naming the organizers of the planned falsification.
The major became widely known after he recorded the voice of an individual who sounded like former President Leonid Kuchma giving orders in the presidential office to "settle scores" with journalist Georgy Gongadze, whose beheaded body was later found in the Kiev Region in autumn 2000.
The Prosecutor General's Office used Melnichenko's tapes to bring charges against Kuchma in 2011. However, the court ruled that the case against the former president was opened without legal grounds because the tapes had been made without a court sanction.
Melnichenko was detained and taken into custody at Boryspil International Airport in October 2012. He was charged with the disclosure of state secrets, abuse of office and falsification of evidence.