Jailed Pussy Riot rocker on hunger strike taken to hospital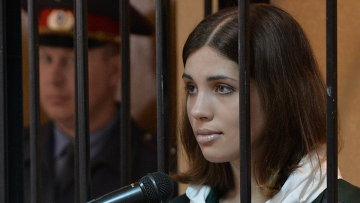 10:18 30/09/2013
MOSCOW, September 30 (RIA Novosti) – A jailed Pussy Riot rocker on hunger strike over allegedly horrendous prison conditions has been transferred from a medical ward of her penal colony to a hospital, penitentiary authorities said on Sunday.
A spokesman for the local penitentiary service department said Nadezhda Tolokonnikova, serving a two-year sentence over a so-called punk prayer protest in Moscow's main cathedral last year, agreed to being transferred to hospital "for further screening of her health dynamics."
Doctors currently estimate her health condition as "satisfactory," the spokesman said.
Tolokonnikova, 23, announced her hunger strike last week. In an open letter published by news site Lenta.ru, she harshly criticized the prison's labor and sanitary conditions and claimed that a vice warden had threatened her life.
On Friday, after five days of hunger strike, she was taken to a medical ward of her jail.
Her lawyer, Dmitry Dinze, said Friday that a request for Tolokonnikova to be transferred to a different prison had been denied. That same day a local official announced that the prison did not support her request for early release, an issue to later be decided in court.
Prison authorities have said Tolokonnikova went on hunger strike as blackmail after she was denied privileged treatment. The only sustenance that Tolokonnikova has allowed herself on her strike is water.