Law enforcement agencies to determine if Olympic contracts were inflated - Putin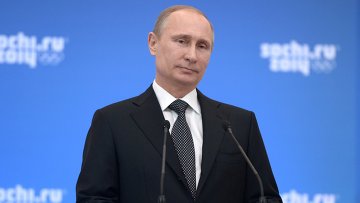 19:32 10/02/2014
MOSCOW, February 10 (RAPSI) - The issue of whether the buildup of Sochi's infrastructure for the 2014 Winter Games was overpriced should and will be determined by the relevant law enforcement authorities, Russian President Vladimir Putin said at a meeting on Monday for the Public Council of the Olympic Games.
The president stated that a great deal of money has in fact been invested into the games, but that it would not be appropriate at present to discuss how much was spent, or whether any of the contracts were overpriced. He asserted that this should and will be dealt with by the relevant law enforcement bodies.
He expressed hope that the infrastructure built up for the games "will serve people for upwards of a decade, and maybe for upwards of a century, as has happened in some European countries."
President Putin added that while in other sites, such infrastructure had already existed for many years - Sochi's infrastructure has effectively been built up over the past five to seven years.
Gian-Franco Kasper, a senior member of the International Olympic Committee, streamlined the allegations earlier in January when he told a Swiss radio station that more than a third of the budget for the Olympics had been embezzled.
The president shot back at the allegations in January, telling journalists that there were no signs of corruption during preparations for the Olympic Games. "We haven't noticed any traces of large-scale corruption during realization of the Sochi project... But there are attempts of contractors.. to raise the price," Putin said. The President welcomed everyone to share any facts about corruption and claimed that there are allegations so far. He reminded of some officials who tried to bargain the land plots allocated for the Olympic infrastracture, but those officials went on trial.
The Olympic Games in Sochi are presently underway, following a spectacular Opening Ceremony on Friday.