Russian investigators to look into bank accounts of Nemtsov murder suspects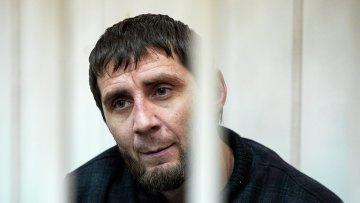 10:34 09/04/2015
MOSCOW, April 9 (RAPSI) – Russian investigators are going to look into bank accounts of Zaur Dadayev and other suspects in the murder of opposition leader Boris Nemtsov, Izvestia newspaper reported on Thursday, citing a law enforcement source.
Investigators reportedly allege that information on bank accounts, transactions, and other financial information may lead to masterminds of the killing.
"Investigators will focus on any large sums deposited in the suspects' accounts in 2014 and 2015 and the origin of the funds," the newspaper writes.
Zaur Dadayev said he was promised 5 million rubles (about $87,000) for killing Nemtsov. Investigators believe the overall "budget" for the crime could reach 15 million rubles ($261,000). Activity on the suspects' accounts involving this sum or parts of it possibly started long before the murder. Also, bank account statements could provide additional information about the suspects' purchases and movements.
Investigators who claim that the murder was a contract killing will reportedly also look into debts, loans and other financial obligations of the suspects.
Nemtsov, co-chair of the Republican Party of Russia – People's Freedom Party (RPR-PARNAS) and former first deputy prime minister in the Yeltsin government, was fatally shot as he walked home with a girlfriend in central Moscow late on the night of February 27. He joined the opposition in the 2000s.
Five men were arrested on suspicion of killing Nemtsov: Zaur Dadayev, Anzor Gubashev, Shadid Gubashev, Khamzat Bakhayev and Tamerlan Eskerkhanov.
The alleged killer, Zaur Dadayev, initially pleaded guilty and testified against the other suspects, but later retracted his testimony in court, saying he was coerced to incriminate himself.