MOSCOW, July 18 (RAPSI) - The Leninsky District Court in Kirov is set to announce its verdict Thursday in the large-scale timber embezzlement case presently pending against renowned opposition activist and Moscow mayoral hopeful Alexei Navalny.
LIVE UPDATES
12:43 Well our dear readers, this has been quite a day. We already know that the defense plans to appeal the verdict. As we mentioned earlier, they are prepared to take their discontents as high as the European Court of Human Rights. Stay close to be the first among your friends to find out the latest on all things Navalny. Thanks for joining us this morning!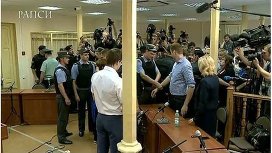 12:35 Those present in the courtroom as the sentence was read out were shocked.
12:34 Ofitserov's wife is in tears, but Navalny's wife remains stoic. Her husband made no secret in the weeks leading up to the verdict of his confidence that he would be convicted.
12:33 Navalny and Ofitserov are liable for the fine of one million rubles between them.
12:29 Ofitserov's relatives are in tears.
12:29 Navalny has already left the courtroom. Others are filing out behind him.
12:27 The judge explains that there is no reason to grant a suspended sentence.
12:25 Navalny is being detained in the courtroom. He wants to bid his parents farewell.
12:23 Navalny has been sentenced to 5 years in a penal colony. Ofitserov has been sentenced to 4.
12:21 The judge has not found any aggravating circumstances to be present in the case against Navalny and Ofitserov.
12:19 It seems likely that the defendants will be sentenced momentarily.
12:09 The text of the verdict, up close and personal.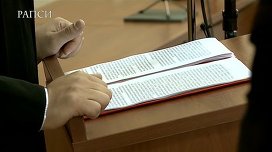 12:08 The actions of the defendants contain all the features of the offense alleged, Judge Blinov tells us.
12:03 Because we believe you should know literally everything there is to know about the trial, know this: the trial against Navalny and Ofitserov has lasted 84 hours.
12:01 The hashtags #Navalny and #кировлес (Kirovles, in Russian) are topping out the Russian Twitter charts at the moment.
11:56 The judge states that Kirovles sustained the loss of 16 million rubles (approximately $494,000).
11:52 The court finds untenable the defense claim that deliveries were not fulfilled due to Kirovles' fault; it is incompatible with the testimony of various witnesses, including Opalyov.
11:45 The judge is reading out the findings from the trial. Next we will move on to sentencing.
11:43 The specific quote on political bias allegations: "Arguments that Navalny is being prosecuted on political motives are far-fetched."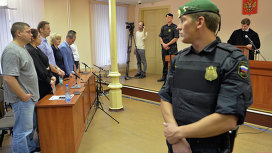 11:40 He adds that Navalny's position as an advisor failed to stop him from committing crime.
11:38 The judge explains that he has no reason to doubt that the prosecution successfully disproved evidence presented by the defense.
11:34 Judge Blinov interprets the use of words like "we" and "us" by Ofitserov as indicative of a common goal.
11:30 The judge explains that the wiretapping conversations illustrate relationships which were not chummy so much as reflective of communications between a boss and his subordinates. In Blinov's view, guilt has been proven.
11:28 Judge Blinov states that Navalny's claims that his prosecution has been politically motivated are baseless.
11:25 Meanwhile, Judge Blinov has moved on to evidence in the form of wiretapped conversations, as well as expert opinions on the banter found therein.
11:22 By the way, we've come out with a short video (in Russian) of the moment of Navalny's conviction. Please feel free to share generously. At the moment, we're working on an English translation for you.
11:18 Navalny tweets that judging by the thickness of the documents still to be read, he anticipates perhaps another hour, maybe an hour and a half of this.
11:12 Yep, still reading through those emails. Meanwhile, check out this picture of opposition MPs Dmitri Gudkov and Ilya Ponomarev! Again, these two are here in attendance this morning.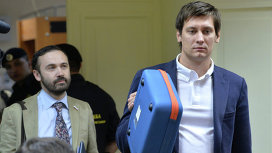 11:04 The judge is now reading off a list of the emails exchanged between the accused.
11:01 A bit of gossip for you: there was a short-lived scuffle during the break between Navalny's father and one of the bailiffs. We're still sussing out the situation, and as soon as we know what happened, so will you. What we do know - it took the intervention of New Times Chief Editor Evgenia Albats to cool things off.
11:00 The judge, undaunted by the mountain of documents before him, is powering through... at such a rate that he occasionally has to stop and take a sip of water.
10:51 Judge Blinov explains that the documents confirm that an unfavorable contract was signed.
10:43 Judge Blinov is back. We're back in action.
10:34 Members of the audience are getting restless as we have not been released from the courtroom. Navalny, however, was allowed to run free through some back entrance. He promises he'll return, however.
10:27 And suddenly, a break has been called. The judge has been reading the documents for about an hour and a half at this point - we will be back in about ten minutes.
10:25 A clearly bored Navalny tweets that his efforts to convince everyone around him to participate in a stadium-style fan wave have proved fruitless as of yet.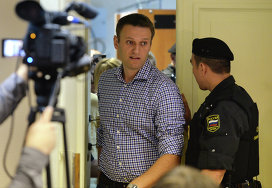 10:16 The judge is now reading out the testimony of Kirov mayor Nikita Belykh, who you may recall testified that he had no grounds from which to believe that Navalny's actions had damaged Kirov's economy.
10:14 Any sentiments the courtroom audience may have mustered about the momentousness of this historic occasion seems to have been drowned out by boredom. To be fair, most of us have already heard all of these points drawn from witness testimony, at least twice.
10:10 As we wade through this sea of paperwork together, I would like to draw your attention dear readers to the fact that this is actually quite a historic occasion. This is the first time in the history of Russian legal proceedings that an entire trial was (video) broadcast live. How's that for transparency? Again, you can catch that video here. Like a foreign film, with us as your subtitles. Do it. Be a part of history.
10:06 Ofitserov is looking at his phone as the judge continues to read.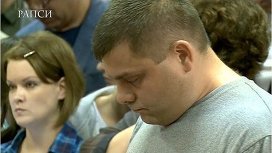 10:02 Much of the witness testimony seems to have come from witness interrogations that occurred during the investigative stage.
9:55 Judge Blinov describes a number of witness testimonies that formed the basis of his opinion.
9:52 Navalny writes that the stack of papers in front of the judge is double-sided. We'll take his word on this one. We hope your seats are comfortable.
9:48 A number of the testimonies of leaders of the Russian timber industry, a number of whom testified during trial, formed the basis of the decision as well.
9:43 Judge Blinov reads that he fully believes the testimony of Kirovles CEO Vyacheslav Opalyov, a former co-accused who entered a plea deal in exchange for a four-year suspended sentence. In Blinov's opinion, there's no reason not to.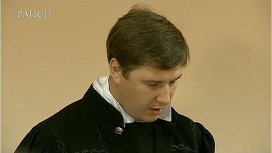 9:41 Defense attorney Davidova is having a tough time concealing her emotions as the hearing stumbles along.
9:40 Navalny peers at the documents piled up in front of the judge and concludes that the hearing won't be ending anytime soon.
9:35 The judge found true and convincing the testimony offered by the prosecution's main witness with regard to the Kirovles theft.
9:25 We're now hearing the witness testimonies.
9:24 Judge Blinov continues to read out the case history.
9:21 Even though the verdict has not yet been completely read through, the defense team is already bracing for its appeal. They have let it be known that they intend to appeal in Kirov, but are willing even to go as high up as the European Court of Human Rights.
9:17 Judge Blinov is recalling details of the case, such as prosecutorial allegations of disadvantageous contracts.
9:16 The judge holds that Navalny organized timber embezzlement while Ofitserov was his accomplice.
9:14 They may have his body confined to the courtroom, but they can't keep his mind and fingers out of the social networks...
9:12 As it turns out, Judge Blinov is reading out the indictment. Meanwhile, Navalny is smiling encouragingly at the courtroom.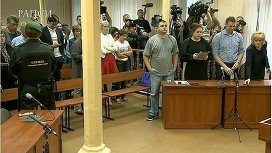 9:11 By the way, you can watch our broadcast live here. Fair warning, it's in Russian. But maybe put it on mute and let us narrate for you. Pretend we're your subtitles and you're watching a hip foreign film.
9:10 The judge is mic'd up, but still extraordinarily difficult to hear. There were complaints about this during the course of the hearings - the impossibility of hearing anything in the courtroom.
9:05 The judge has arrived, and we have begun!
9:05 Among the VIP guests present are opposition MPs Dmitri Gudkov and Ilya Ponomaryov. A number of supporters are crowding outside the courtroom, preparing to get a bit antsy.
9:04 The defense team of Ofitserov, Navalny's co-accused, has arrived.
9:00 For the record, the hearing is set to begin right now. But many things in life tend to unfold a bit more slowly than expected.
8:59 Enhanced security measures have been taken in the courtroom, which won't accomodate all the journalists wanting to gain entry. Don't worry. As usual RAPSI has managed to claw its way in. There is a special video overflow room and some of the audience prefer to watch the hearing there.
8:55 Sadly Navalny's brother could not be in attendance today as he - having found himself in a bit of legal hot water as well - is incidentally under house arrest.
8:50 It's a bit difficult to decipher what the crowd is here for, though they seem to be supporters. Navalny's parents have arrived as well.
8:45 Good morning RAPSI readers, all the way from Kirov where we are eager to report the verdict and potential sentencing of opposition activist Alexei Navalny live as it happens. With you this morning are Maria Gusarova, Ingrid Burke, and Vladimir Yaduta.
Background
According to investigators, while serving on a voluntary basis as an adviser to the Kirov region governor, Navalny organized the theft of over 10,000 cubic meters of timber. It was allegedly stolen from Kirovles company between May and September 2009 in collusion with Vyatka Timber Company Director Pyotr Ofitserov and Kirovles CEO Vyacheslav Opalyov.
The regional budget is estimated to have suffered the loss of 16 million rubles ($514,140) as a result. In May, however, Kirov Governor Nikita Belykh testified to the contrary in court that he had no grounds from which to conclude that Navalny's actions as his advisor had in fact caused damage to the region's economic interests and budget. Belykh stipulated however that he could not speak on the point in his official capacity, "because we have not examined the issue."
If convicted Navalny along with Ofitserov faces up to ten years in prison, and will be ineligible for public office even if only slapped with probation. On July 5, prosecutors requested a six-year prison sentence and a fine in the amount of one million rubles.
Opalyov, who has entered into an agreement with the prosecution, received a four-year suspended sentence.
Navalny said in the interview with Dozhd TV this past April that he expected a conviction in the present case and announced his intention to run for the Russian presidency.
Then in July he submitted documents to become registered as a mayoral candidate in Moscow, which will hold snap elections on September 8. A spokesperson for the Moscow City Election Commission Commission told RAPSI on July 12 that if convicted of the Kirovles embezzlement, Navalny's name will be removed from the mayoral candidate list.
In addition to the Kirovles embezzlement case, investigators have opened three other criminal cases against Navalny, on charges of embezzlement from a political party, deceiving an international cosmetics company, and illegally conspiring to privatize a central Russia distillery.
Proceedings
The trial began on April 16, but was promptly postponed based on a request by Navalny's legal team for more time to prepare its defense. The hearing has been rescheduled to start the following week, on April 24.
In appealing for the postponement, Navalny noted that he had not yet exhausted all appeals in his effort to transfer the proceedings from Kirov to Moscow, and that he had not expected the case to move forward in Kirov prior to the final outcome of this decision. He explained further that he had recently added a local Kirov lawyer to his team. The local lawyer needed more time to prepare.
The judge held that Navalny's team should be afforded a week to prepare for trial.
The following week's hearing inspired Navalny's defense team to seek a replacement judge based on allegations of impropriety during witness examination.
This effort was repeated in June, when Navalny's defense team filed a motion asserting that presiding Judge Sergei Blinov was "acting as a prosecutor, and he should not be carrying out this role."