MOSCOW, September 30 (RAPSI) – Those suspected of bearing responsibility for the Odessa massacre that left at least 48 people dead have been identified, criminal cases reach courts, Ukrainian Interior Minister Arsen Avakov said on Tuesday in his interview to German magazine Focus.
About half of the cases have already been submitted to courts, and sentences are expected to be handed down by the end of fall, the magazine quoted Avakov as having said.
Avakov attributed the general cause of the tragedy to the incompetence of Odessa police. "They were locked up somewhere, while the streets were tore up with riots. The reaction followed too late, and that's one of the main problems here," the minister added.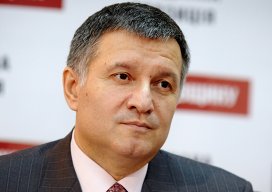 The Interior Minister also casts blame on "professional provocateurs and fools", who were aggravating the situation during the Odessa clashes.
On May 2, clashes in Odessa broke out between independence supporters on one side and fans of the Odessa and Kharkiv football teams on the other, later joined by Euromaidan activists.
Pro-Kiev radicals joined by Right Sector militia blocked the anti-government protesters in the House of Trade Unions and set the building with the help of Molotov cocktails. Those trapped inside had little chance of extinguishing the blaze, as fire hoses in the building were out of order.
At least 48 people died, and over 200 were injured. Local officials accused Kiev of covering up the actual death toll of at least 116.
No plausible explanation has been offered for the fact that many of those who died did not try to take refuge on upper floors or the roof, prompting rumors that they were poisoned by an unknown chemical.