Four suspects in Moscow riots case to remain in custody until March 6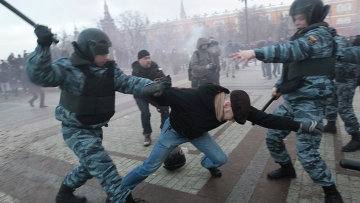 15:55 26/11/2012
MOSCOW, November 26 - RAPSI. The Moscow City Court has left in custody until March 6 four defendants in the Bolotnaya Square riots case, the court told the Russian Legal Information Agency (RAPSI/rapsinews.com) on Monday.
The custody has been extended of Nikolay Kavkazsky, Yaroslav Belousov, Vladimir Akimenko and Alexei Polikhovich. The Moscow City Court has dismissed the defense's appeals against lower court rulings on their arrest.
Kavkazsky's lawyers said their client's health is poor and sought his release on those grounds. They also said law enforcement officers have forced him to commit acts of aggression while in custody.
However, the investigators said they do not have any proof that he has committed such violations.
An officially sanctioned opposition march across Moscow led to clashes with the police on May 6. Dozens of protesters and police officers were injured. The police detained over 400 rally participants.
After May 6, the opposition continued its protests in the form of "people's promenades," wherein crowds of opposition activists walked peacefully together through the city in a show of opposition.
In June, investigators searched the homes of the rally organizers and participants, including those of Alexei Navalny, Sergei Udaltsov, Ilya Yashin, and Boris Nemtsov.
A total of 18 individuals were detained in the investigation.
Ten individuals are on remand, including: Alexandra Dukhanina, Alexei Polikhovich, Yaroslav Belousov, Denis Lutskevich, Rikhard Sobolev, Vladimir Akimenkov, Oleg Arkhipenkov, Fedor Bakhov, Alexander Kamensky, and Mikhail Kosenko.