Accused Moscow rioters to remain in jail, at least until March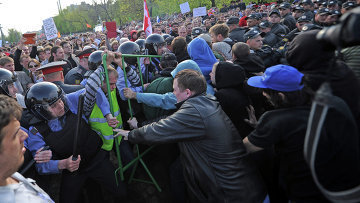 16:36 03/12/2012
MOSCOW, December 3 - RAPSI, Diana Gutsul. The Moscow City Court has dismissed appeals against the extensions of the arrests of Andrei Barabanov and Denis Lutskevich in connection with the Bolotnaya Square riots case, the court told the Russian Legal Information Agency (RAPSI/rapsinews.com) on Monday. The court has decided to leave the suspects in custody until March 6, 2013.
Under Russian law, it is possible for prosecutors and victims to jointly pursue criminal charges.
Barabanov sent his apologies to the victim Ivan Kruglov, a law enforcement official, and received a response stating that Kruglov had forgiven him and had agreed to close the case against him. The prosecutors, on the other hand, refused.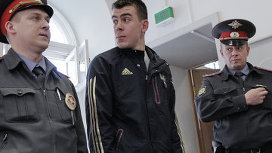 © RIA Novosti
Denis Lutskevich
Barabanov and Lutskevich have been charged with using violence against law enforcement officers.
The prosecutor objected to Barabanov's appeal, stating that the first-instance court had reason to extend his detention.
An officially sanctioned opposition march across Moscow led to clashes with the police on May 6. Dozens of protesters and police officers were injured. The police detained over 400 rally participants. After May 6, the opposition continued its protests in the form of "people's promenades," wherein crowds of opposition activists walked peacefully together through the city in a show of opposition.
In June, investigators searched the homes of the rally organizers and participants, including those of Alexei Navalny, Sergei Udaltsov, Ilya Yashin, and Boris Nemtsov.
A total of 16 individuals have been arrested in connection with the riots.