Nemtsov murder suspects may be charged with drug trafficking - report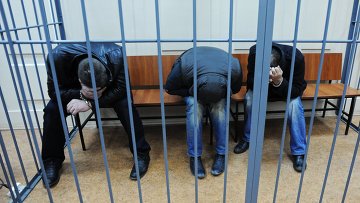 10:32 13/04/2015
MOSCOW, April 13 (RAPSI) – Five suspects in the murder of opposition politician Boris Nemtsov are under investigation for alleged drug trafficking, Kommersant newspaper reported on Monday.
Zaur Dadayev, the alleged gunman, served as the former deputy commander of the Chechen Interior Ministry's Sever battalion. He was arrested along with a former fellow solider on March 5 when they were leaving Magas, the capital of the North Caucasus republic of Ingushetia, on suspicion of drug trafficking.
The Ingush prosecutor's office has not reported on the results of the investigation.
Investigators searched apartments of the suspects. White powder and a solid dark substance were found in one of the apartments and sent for chemical testing.
A conclusive result of this probe would place in question the investigators' main version, that is, a contract murder, according to Kommersant.
Dadayev's attorney, Ivan Gerasimov, said he had not noticed any evidence of drug addiction in his client. The defense attorneys of the other four suspects have made similar statements about their clients.
Nemtsov, co-chair of the Republican Party of Russia – People's Freedom Party (RPR-PARNAS) and former first deputy prime minister in the Yeltsin government, was fatally shot as he walked home with a girlfriend in central Moscow late on the night of February 27. He joined the opposition in the 2000s.
Five men were arrested on suspicion of killing Nemtsov: Zaur Dadayev, Anzor Gubashev, Shadid Gubashev, Khamzat Bakhayev and Tamerlan Eskerkhanov.