Russia's Supreme Court upholds sentence for Hizb ut-Tahrir member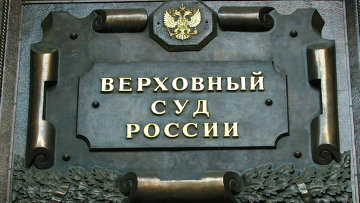 11:20 22/12/2016
MOSCOW, December 22 (RAPSI, Oleg Sivozhelezov) – The Supreme Court of Russia has upheld the sentence for Abdunabi Zoidov who was found guilty of participating in activities of Hizb ut-Tahrir terrorist organization banned in Russia, RAPSI reported from the court on Thursday.
The court refused to grant an appeal against the Moscow District Military Court's ruling sentencing Zoidov to four years and four months in prison.
Earlier, it was established that Zoidov was a member of Hizb ut-Tahrir since the summer of 2014 till October 2015. He was participating in the organization's meetings and was studying religious and ideological literature to obtain skills needed for propagation of radical Islam. Zoidov, along with other members of organization, was arrested on October 19, 2015. He was found guilty of participating in activity of terrorist organization.
Hizb ut-Tahrir (the Party of Islamic Liberation), founded in Jerusalem in 1953, is banned in several Arab and Central Asian countries. Russia's Supreme Court banned the group from operating on the territory of the country in 2003, describing it as a terrorist organization.
Hizb ut-Tahrir members are regularly arrested by the police across Russia, mainly in big cities in central Russia, the Volga region and Siberia.