Expert analysis fails to prove suspects' presence at Nemtsov murder scene - lawyer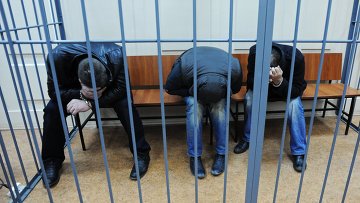 12:34 30/07/2015
MOSCOW, July 30 (RAPSI) – Expert analysis shows that the suspects in the murder of Russian opposition leader Boris Nemtsov were not in the car that drove away from the murder scene, Shamsudin Tsakayev, the lawyer for suspected killer Zaur Dadayev, told RAPSI on Thursday.
A forensic odor analysis showed that the suspects were not in the killer's car, Tsakayev said .
A biological analysis conducted in a forest near the village where the suspects allegedly were hiding did not find any of their traces either, he added.
Nemtsov, co-chair of the Republican Party of Russia – People's Freedom Party (RPR-PARNAS) and former first deputy prime minister in the Yeltsin government, joined the opposition in the 2000s.
Investigators are looking into several theories regarding his murder, including a contract murder.
Five men are being held in detention until August 28 on suspicion of killing Nemtsov: Zaur Dadayev, Anzor Gubashev, Shadid Gubashev, Khamzat Bakhayev and Tamerlan Eskerkhanov.
Investigators believe that Dadayev killed Nemtsov, that Bakhayev provided information and was to hide his accomplices after the murder, and that Eskerkhanov was tracking Nemtsov's movements. Investigators have not reached any conclusions on the Gubashev brothers' role in the crime.