Amnesty International calls upon Russia to stop violence against demonstrators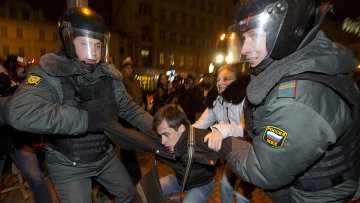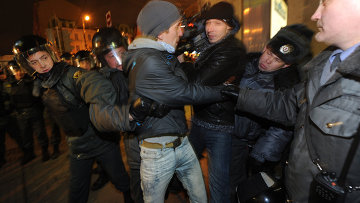 14:58 08/12/2011
MOSCOW, December 8 - RAPSI. Amnesty International has called on the Russian authorities to force the police to stop treating election protesters poorly, the organization said in a statement.
Amnesty International noted that it has received complaints that protesters have been treated poorly in detention, beaten by police officers, and refused first aid.
Amnesty International stated that according to its data new protests will soon be held. Thus, it has called on the Russian authorities to respect the rights of citizens to hold peaceful protests.
On December 4, the State Duma elections were held. United Russia maintained the majority of votes in parliament.
© RIA Novosti, Ilya Pitalev
Opposition rally in downtown Moscow
On Monday, European observers from the Parliamentary Assembly of the Council of Europe and the Organization for Security and Cooperation in Europe said they revealed a number of violations during the processing of ballots.
At the same time, independent international observers highly evaluated the elections and their only criticism dealt with technical aspects of the elections.
On Monday, the opposition held an authorized rally against violations made during the elections. It ended with an unsanctioned public demonstration and over 300 people were arrested. The police detained renowned whistleblower Alexei Navalny and opposition activist Ilya Yashin for their involvement in an unauthorized procession. Both were sentenced to 15 days in jail for disobeying police.
The opposition gathered in central Moscow on Tuesday night. Another 300 people were detained. Among them were Yabloko party leader Sergei Mitrokhin and opposition politician Boris Nemtsov. They were both later released.
Some journalists were detained as well.