Legality of raid on opposition leader Navalny's home upheld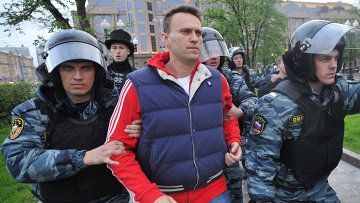 10:27 28/08/2012
MOSCOW, August 28 - RAPSI. On Monday, the Moscow City Court upheld the validity of a police raid on opposition leader and renowned anti-corruption activist Alexei Navalny's home and office, the court spokesperson told the Russian Legal Information Agency (RAPSI/rapsinews.com).
The search was part of an investigation into the May 6 Bolotnaya Square riots.
Clashes with the police flared up on May 6 during an opposition march across Moscow, which had been officially sanctioned. Dozens of protesters and police officers were injured. The police detained over 400 rally participants.
After May 6, the opposition continued its protests in the form of "people's promenades", wherein crowds of opposition activists would stroll together peacefully through the city in a show of protest. In June, investigators searched the homes of rally organizers and participants, including those of Navalny, Sergei Udaltsov, Ilya Yashin and Boris Nemtsov.
The court has rejected the appeals of the validity of search warrants issued by Basmanny District Court.
Navalny challenged the four search warrants issued for his two apartments and two offices. He has said that the offices searched have nothing to do with him.
His defense attorney Olga Mikhailova has stated that she will be appealing Monday's ruling in the European Court of Human Rights, and she anticipates success.
The court has already upheld the validity of raids on the apartments of Yashin and Nemtsov.